The Pancake Corner in Manchester is celebrating Shrove Tuesday by inviting you to tuck into a meal they've lovingly christened 'The Beast'. As with most of these eating challenges, if you mange to finish it then it's free.
As you might expect though, it's gonna be one hell of a tough one to beat. The tower is 12 inches tall and features ten pancakes, with a variety of toppings and fillings inside it. Get ready for these, because it's a long list.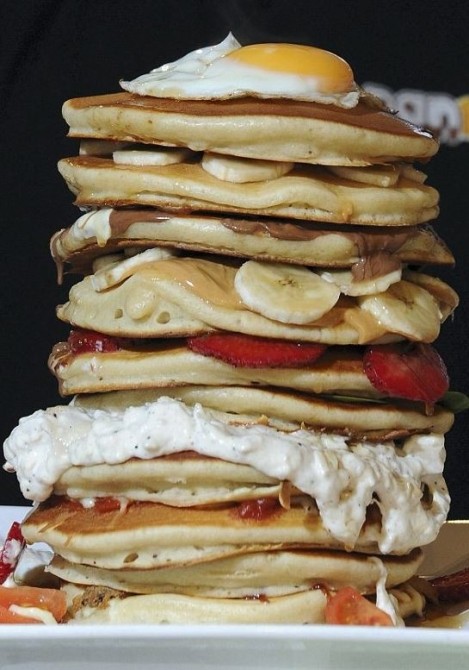 It goes like this, in order from the top down: a fried egg and maple sauce layer; a banana, toffee and chocolate buttons layer; Nutella and cream layer; peanut butter and sliced banana layer and then a strawberry sauce and Nutella layer. Following that, you move onto some of the more filling pancakes which begin with a salami pancake before moving onto a spinach, tomato and cheese layer that's followed by chicken mayo and black pepper. There's still more to come after that as the final two pancakes consist of cajun chicken and BBQ sauce, followed by Italian tomato and cheese to let you down easy.
I'm not sure how you're supposed to eat that – one pancake at a time or just wade in and see what happens? – but it's definitely a great addition to the abundance of eating challenges we're now facing in this country. If you don't fancy this today, maybe try the Fifty Shades Of Bacon burger instead, which is also pretty topical at the moment.