In news that is sure to bring a smile to the face of everyone reading this that isn't a racist idiot (hopefully everyone), recent reports are alleging that UKIP are on the verge of going bust and probably won't be a political party much longer. What an early Christmas present.
Although UKIP achieved a landmark win in the European election, their poor performance in the General Election (with even Nigel Farage losing his seat) and embarrassing party in-fighting has led to the departure of several high profile members and donors such as Arron Banks (pictured below) and Winston Mackenzie.
This in turn has led to a £300,000 loss in annual revenue. To put this in perspective, from January to April this year in the run up to the election the party received around £3 million in donations, whereas since their abysmal performance in the election they're received around £200,000.
This has led to Nigel Farage desperately ringing around backers to try and secure the necessary finances in order to keep the party afloat. Half of the staff in their Devon office have apparently already been made redundant, and it's believed that many others are currently yet to be paid for the last few months of their time. That's not so good. Not so good at all.
Images VIA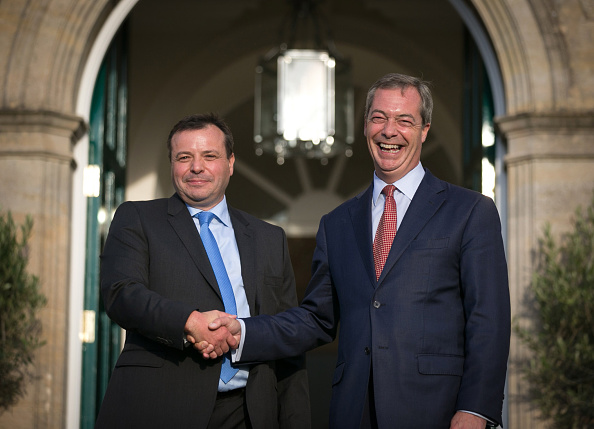 An anonymous UKIP spokesman denied all that though and had the following to say:
It was predicted that we could not pay our bills for the General Election in July, and that was not correct. The suggestion that we had a problem meeting payroll last month is also incorrect.

It is certainly true that having a competitor like Leave.EU presents a challenge.

As we are no longer the only game in town, we have to try harder to attract supporters, but our members know that without Ukip there would have been no referendum for Leave.EU to campaign in.
Hmmm. Doesn't exactly sound too convincing does it? Let's hope that those reports are correct and we can soon say goodbye to this horrible little party. I know I wouldn't be the only one glad to see the back of it.
Of course, we wouldn't get to laugh at funny stuff like Nigel Farage being attacked by Scottish people anymore, but that's a small price to pay I'm sure you'll agree.