As the lockdown rules begin to ease, more and more people are straight up just deciding that the pandemic is over and ignoring them, as was seen in Peterborough on Monday where 300 people attended a lockdown rave that the police were powerless to stop.
Images VIA
The police were initially called at around 8:20pm after a group of 20-30 people gathered with about 8 cars in the Paston area of the city. When they arrived though, there were hundreds more people drinking publicly, and it was decided that they couldn't really do anything to stop it so they just kinda hung around observing stuff and making sure there wasn't any trouble. Good way to interpret the rules, sure.
Around 11pm, there were some reports that someone had been stabbed – can't really have an outside event without one a stabbing in the UK these days – but no knives or victims were ever found. The party ended around 2am, with most people leaving and music being turned off by 1am. Guess it was a successful evening in that respect?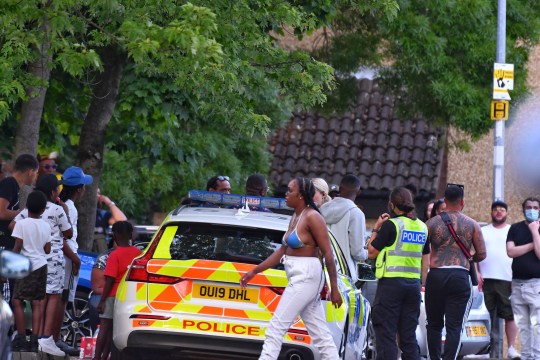 Here's what Superintendent Adam Gallop, from Cambridgeshire Police, said:
We understand local residents were concerned, and some frightened, by the large gathering last night.

We will be conducting enquiries in the area over the coming days so residents may notice an increased presence.

We will also be conducting patrols in the area to prevent any further similar incidents.

There is a line between organising community events to build morale in this challenging time, and the events of last night which very clearly were not acceptable.

The local policing teams will continue to work with all our communities to advise, guide and, where necessary, enforce guidance and legislation.

We are investigating the source of the gathering and how it came to be of such a scale.

Where any offences have been committed we will take action, but due to the scale of the event and the number of enquiries we need to carry out this could take some time.
I mean to me that just kinda says that (again) anyone can do what they want and the police aren't really going to bother to enforce it or break it up if it looks too difficult. Looks like lockdown is over – at least for the time being – but I guess we'll see if we pay the price or not in a few months.
For more of the same, check out when there was a massive herpes breakout at Coachella. That was funny.