Had to look around to make sure this wasn't some kind of fake viral story, but it turns out it's absolutely true.
If you're not up to speed on your international gay news stories, just know that Uganda in general does not condone the LGBT life. They probably feel even stronger about it than Putin does.
The Red Pepper tabloid published its top 200 homos list on Tuesday, where the cover of the paper read 'EXPOSED! Uganda's Top 200 Homos Named'. The day before the list was printed, Ugandan President Yoweri Museveni signed a bill that made some homosexual acts punishable by life in prison.
☛ Read Next: Anti-Anti-Gay Protest Signs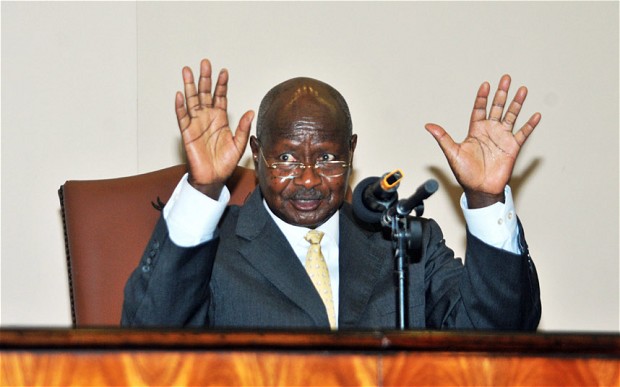 Museveni had previously commissioned a team of scientists to look into whether homosexuality is "learned" or whether it is a "genetic distortion".
After his team had got back to him, he said of homosexuals: "They're disgusting. What sort of people are they? I never knew what they were doing. I've been told recently that what they do is terrible. Disgusting. But I was ready to ignore that if there was proof that that's how he is born, abnormal. But now the proof is not there."
The top 200 homos list included prominent Ugandan gay activists, a popular Ugandan hip hop artist and a Catholic priest. It's distressing to think about because you know that the publication of this list is only going to lead to horrific violence and probably worse.
In 2010 another Ugandan tabloid listed 100 of the country's 'top gays and lesbians' alongside photos and addresses of the people featured.
Maybe we should run our own top 10 homos list (obviously way different definition of 'top' than Uganda) and fire it over to them. Maybe fuck with them on Twitter a little bit. What do you think?
☛ Read Next: What's It Like To Be Gay And Live In Russia Right Now