In the midst of all the hype surrounding this year's fight between Floyd Mayweather and Conor McGregor, McGregor decided to attend his opening world tour press conference last week wearing a suit that spelled out 'F**k you' on the pinstripes. Subtle.
Featured Image VIA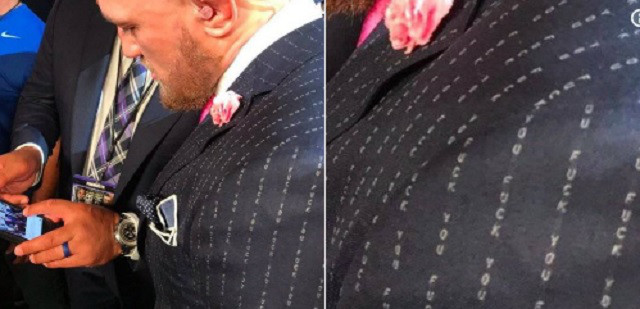 Given the fan support that has followed McGregor throughout his world tour, I guess we shouldn't be surprised that some moronic superfan has decided to get this suit concept tattooed on his arm. There are a lot of irreversibly awful sports fan tattoos out there, and this one is definitely up there as one of the worst:
https://twitter.com/TeamFA/status/886207277023338497?ref_src=twsrc%5Etfw&ref_url=http%3A%2F%2Fbrobible.com%2Fsports%2Farticle%2Finsane-fan-gets-tattoo-inspired-by-conor-mcgregors-fck-you-suit%2F
Not only is it a crap tattoo on its own, but it doesn't even mean anything either. The fight hasn't happened yet – if Conor McGregor loses, this monstrosity is just going to be a permanent reminder of his idol's failure. As I always say – think before you ink.
For more of the same, here are the best & worst football fan tattoos of all time.