Wait, what? The Kiwis were right?! On Saturday, Tyler, The Creator was stopped at the airport and arrested for inciting a riot during one of his performances for Converse at the SXSW festival on Thursday.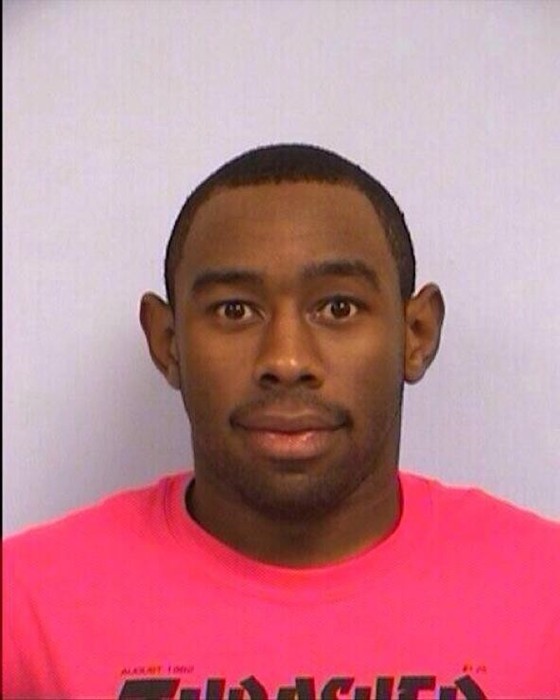 Crowds struggled to get into the venue which had already reached full capacity, with Tyler telling them to break in and join the party. They followed suit and a few hundred people managed to rush in whilst chanting and chaos ensued momentarily stopping the show at one point. Reports say the scene got violent, but having been to an Odd Future gig myself that's sort of a throwaway statement written by people who haven't realised that the world is now filled with streams of ex-scenesters/emos/hardcore kids who now have a rich and broad variety of music tastes (see Skrillex for a fine example of this transition I speak of) but have not yet mastered the art of dancing beyond fly-kicks, jumping and fist pumping. Thus, the mosh-pit lives on.
Basically, whoever deemed the crowds violent would have probably deemed the crowd violent regardless. No reports of anyone injured luckily so I'll maintain this standpoint.
You can head over to the TMZ website for a pic of him getting cuffed here. Footage of the incident below:
Yeah, so I mentioned New Zealand earlier. I should add Australia too. Tyler and the gang have had a little bit of a falling out with the Kiwis earlier this year after the NZ government banned them from entering the country amidst fears that they would be a "threat or risk to public order or the public interest." Last year, he riled up a feminist group in Australia by publicly cussing them down whilst they protested at his show about his lyrics.
Now, don't get me wrong, using your power to bullying someone who is pissing you off with their (slightly outdated) opinions by feeding into their opinions (and thus making them fresh again, sigh) is dumb as fuck but then again, Odd Future have never tried to tone down immaturity where possible. But seeing as she was protesting at show dedicated to an album about awkward first kisses, sitting in a treehouse with a woman old enough to be his mother and wailing on about the struggles of being in love (see below), he actually sort of did her a service by giving everyone what they came for.
Misogyny in rap is a much bigger picture I can't even get into here but I will say that our attention needs to be on:
the music of the older men whose careers continue to rely on shoddily assembled, albeit catchy, wordplay of stick in hole, bitches/hoes/thots and one-sided polyamorous relationships that drive their main bitches to release their 'dirty laundry' as a self-titled album exclusive to iTunes

stop making fun of Drake since he's the nearest we have to the solution people desire for since he 'still keeps it hood' and 'still treat you like [he] should' (Those are his words… not mine, not mine.)
Rather than the focusing on the career progression of what was an annoying teenage boy going Beavis & Butthead over his bedroom beats who has levelled out into a young man who now raps about daddy issues, lost relatives and his crazy borg fans.
The problem is a lot of his fanbase are quite stupid (tbh, it's true – don't even try to get offended you know exactly the type of OF 'stan' I refer to), and although I feel his success and interviews lead me to believe he's not part of their collective, he also continuously denounces himself as a role model in a Thatcher-esque stance of 'use your own damn brains'. That's the bit that leaves a shady gap, where responsibility for these followers flails in the wind – like blank envelope we all need to address in this day and age of celebrity.
The bail bond reports jump around from initial reports of $3,500 to more recent whispers of $25,000 but either way Tyler was released in time to make his next show in Dallas the same night. Earlier in the week, he decided to cancel a different performance at SXSW in respect of the horrendous incident involving the drunk driving prick we informed you of who killed two innocent people and injuring 23 others in the queue of the impending show.