There are some things that you just don't shit on no matter what, and pretty near the top of that list are memorials to people that fought in wars in the past.
Featured Image VIA
Unfortunately, there are actually a bunch of people out there that do think it's a good idea to defile the memories of those that have died to preserve our way of life, and even more awfully some scumbags that think it's a great idea to do this in front of their children to teach them the way of the world. The two mothers decided to write their names – Jess and Shell – in the wet cement in front of a new bench that had been erected to commemorate 100 years since the end of the WWI in Horncastle, Lincolnshire.
The bench was branded with the immortal words 'Lest We Forget' in front of a filed full of poppies, so it's not even like the women could have just claimed that they didn't know what kind of a memorial it was – unless they're severely uneducated which I suppose is a possibility. I mean look at the state of this: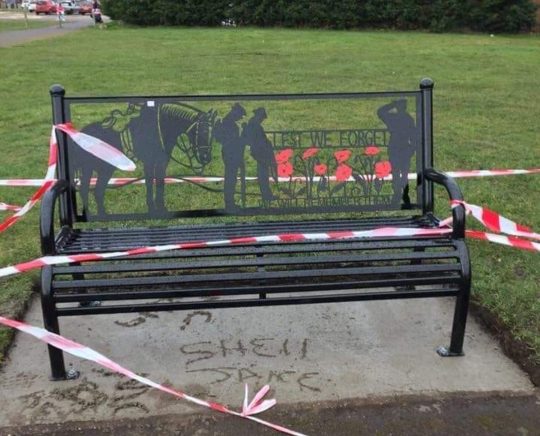 I mean that just isn't really on is it? Needless to say the residents of Horncastle are pretty pissed off about it, with even the mayor weighing in to condemn the two women. Police said that they've questioned a woman about the incident but it isn't known yet if any charges will be brought against them. Hopefully they'll get some kind of reprieve because this really is abhorrent behaviour.
For more of the same, here's a woman who keeps pissing on a war memorial. Awful.