A while back everybody was understandably outraged when a picture of Kelly Martin peeing on a war memorial in Grays, Essex because let's face it, that really isn't on is it?
Images VIA
Kelly ended up being jailed because of her crime which you would have thought probably would have taught her a lesson and made her think twice before doing it again. You would be wrong though, because she got caught peeing on it again last week.
A magistrate sentenced her to seven months in prison this time after it emerged that was peeing on her boyfriend John Hicks and it went all over the monument as well. It seems like Kelly has a penchant for urinating in inappropriate places too, as she's regularly been arrested over the past couple of years for offences relating to this. I guess this was the final straw.
This is what Prosecutor Ashley Petchey told Basildon Magistrates' Court had to say: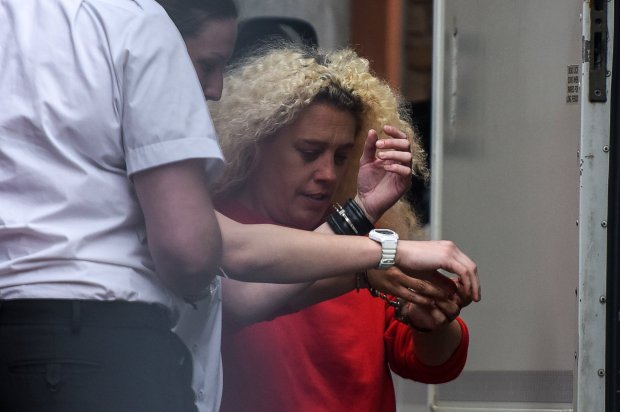 Officers were called to reports of drunken behaviour. They identified the defendant and Mr Hicks.

The defendant was seen squatting and urinating on Mr Hicks on the war memorial.

She was very intoxicated and holding a can of extra-strength lager.

The only times she stops committing offences is when she's in prison or remanded in custody.

Both had been drinking in the High Street. She was spreading her legs while being pushed in the trolley.

Shoppers were disturbed by this.  The couple were being abusive. They had been placing themselves in sexual act positions, while fully clothed, in front of other customers.

A few days prior to this she entered the police station and asked to use the toilet. The PC has advised her there are no toilets at the police station and she replied: "Well I will go and piss out the front of the station then".

The officer has gone outside after her and found her in the squatting position urinating on the concrete.
Wow. What an absolute yob and that really isn't a word I use too often because it sounds really old fashioned but it really is the best way to describe her.
I would probably advise locking her up forever because it doesn't seem like she's going to change her ways at all does it. Come back this time next year when we're writing about her doing it again probably. Waster.
For more peeing, check out the story of the Birmingham Piss Troll. Never gets old.