Whatever you think of Tommy Robinson, I'm not sure he deserved the treatment he got in prison. He was placed in solitary confinement in a Muslim-majority prison, opposite the prison mosque, and had to keep his window shut during the heatwave because lags kept spitting and throwing shit through it.
Featured Image VIA
That's the sort of treatment you might expect to be given to paedophiles and murderers, not someone voicing unpopular opinions.
Tommy refused to eat prison meals following suggestions from inmates that his food had been tampered with. And so he starved himself, lost 40 lbs, and wrote letters begging for permission to buy more (tinned) food:
Well handwriting expert Loraine Quigley, who studied Tommy's prison complaint forms, says that his handwriting reveals that he is immature, insecure and manipulative.
She says he also appears to be suffering from low self-esteem, is unable to think straight and is resentful. I mean to be fair, you'd probably feel that way if you were starving in prison too.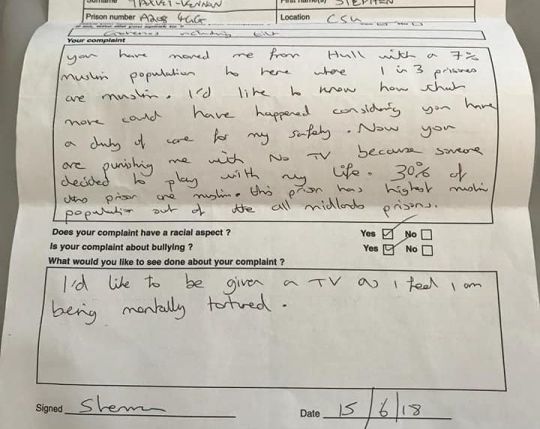 Loraine says:
This writing is immature and the writer is insecure, ambivalent and resentful, as he sees others as more fortunate than himself.

The personal pronoun is very small, showing his poor self-esteem and about the thinking of those who don't value him.

The poor layout of the writing shows his difficulty in organising his activities and thinking processes.
She adds:
The wording of the notes is indicative of a lack of energy and gumption. In fact it shows that he wishes he could escape from himself and start off with a clean page.

All this could be down to a very difficult childhood and/or getting in with an intimidating crowd.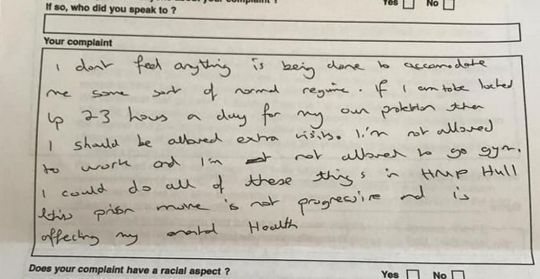 Now I'm not saying that Tommy isn't resentful, insecure or an overall unpleasant person, but I think it's a bit silly to suggest it's because of a difficult childhood when he literally wrote these letters while starving in solitary confinement.
Robinson, real name Stephen Yaxley-Lennon, was serving time at HMP Hull for Contempt of Court when he wrote these complaints. 
He also shared them in this brief interview following his release from prison last month:
Complaints included 'not being allowed to go to the gym', 'not being allowed to work' and also his fear of being poisoned and reliance on tinned food due his 'paranoia'. He also complained several times about not having a television in his cell, he said: 'I'd like to be given a TV as I feel I am being mentally tortured.'
For the time Tommy went head to head with Piers Morgan in a furious TV debate, click HERE.