After the decision to applaud Tom Daley's bravery at making a video announcing to the world that he was currently dating a man (I'm sure this is hard to do when you're 19 whether you're world famous or not), speculation has quickly turned to who his boyfriend might actually be. Of course, this isn't actually that important, but I'm sure everyone is interested in it anyway.
Although a picture of him standing somewhere like H & M with another guy around his age was circulating Twitter on Monday, an anonymous source claiming to be a friend of Tom's has spoken to the Sun (which obviously means this is 100% true) and revealed that Tom is in a relationship with none other than 39 year old Oscar winner Dustin Lance Black, who I'm assuming nobody has ever heard of before.
Apparently he's a screenwriter and he wrote Milk starring Sean Penn which won him an Oscar back in 2008, as well as writing J. Edgar starring Leonardo DiCaprio. Dustin was also raised a mormon and is openly gay, as well as being a staunch advocate of LGBT rights after a speech that was apparently infamous at the 2008 Oscars when he picked up his win but that I've never heard of.
Dustin and Tom allegedly met at the Soho Hotel in the summer and since then Tom has been besotted with him and regularly traveled to Hollywood to hang out with him a bunch of times. Here's a photograph of the pair getting coffee together in Los Angeles at The Coffee Bean in LA at the start of October.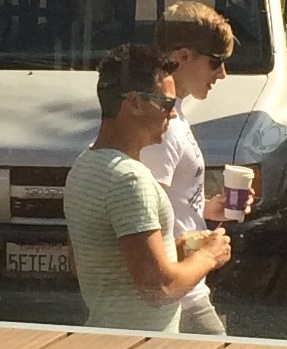 The anonymous source offered the following statement on their relationship: 'He's besotted with Dustin. They love each other and aren't concerned what anyone says about age difference. Dustin is very proud of Tom for making such a powerful statement about his sexuality. They are officially in a long term relationship and are talking about having a future together'. It all sounds great for the pair. If this rumour is true, then we wish them all the best in their future together.
☛ Check This Out Next: Hilarious Jay-Z Swimming Pool Meme