Who here has ever purchased the Daily Mail? Anyone? Good. Don't be tempted. Here's some journalistic methadone in the form of this week's most vacuous non-news items. If you like reading about things that matter to no one and that have no bearing on the world at all then you'll bloody love the crap out of this little lot. Inane, banal and most of all insipid.
As I say each week though, they wouldn't publish this guff unless someone was clicking on it, and I guess I am now partly to blame… oh no.
1) Cinema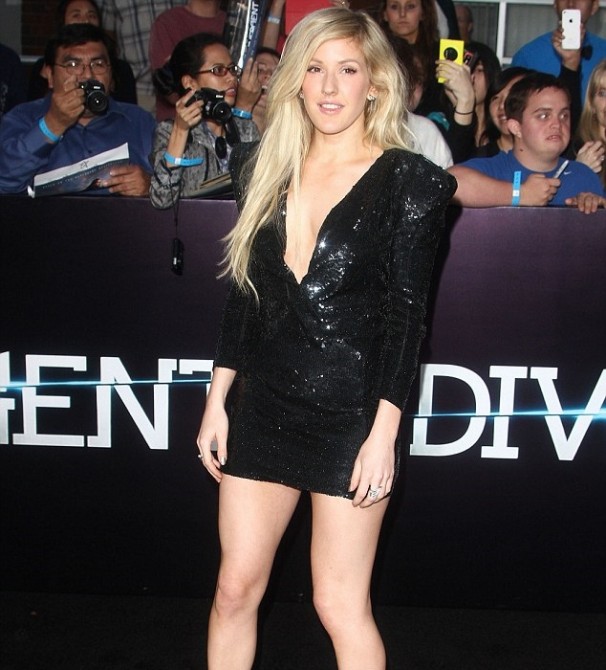 Website: Daily Mail Online
Headline: Acceptable in the 80s! Ellie Goulding enjoys a daring fashion throwback in a plunging  sequin minidress with heavy shoulder pads at Divergent premiere
More Fitting Headline: Someone Goes To The Cinema
Summary: Ellie Goulding goes to the cinema to see a film called Divergent wearing clothes. SHOCKER. And you know what? The clothes she was wearing exposed some chest and a lot of leg. On top of that they were all glittery. OMG. The article was well worth a read though, I learned that she is 27-years-old. The highlight for me is the fella on the right in the picture above. He's having a lovely time.
Quote To Note: "Opting for low-key peach make-up to highlight her naturally pretty features, Ellie completed her red carpet ensemble by wearing her long, platinum blonde locks loosely tousled in their trademark 'bed head' style".
Favourite Reader's Comments: "her chin is so big" and "she tries far too hard and her hair is awful" – not popular with the Daily Mailers it seems.
☛ Next: Today's Top 4 Crap Celebrity News Items #1