I asked who would be next last week in terms of all the food shortages that the UK is currently experiencing because of Brexit and/or Coronavirus complications and I think I went for someone like Subway in the end, but I never thought that it would end up being Mr Brexit himself Tim Martin's Wetherspoons running out of beer.
Featured Image VIA
Sadly though, this is the situation that the nation's favourite (?) pub chain is unfortunately facing right now with supplies of Carling, Coors and Bud Light in short supply at some branches. Wetherspoons spokesman Eddie Gershon said the following about it:
We are experiencing some supply problems with both Carling and Coors, which means that some pubs do not have the products available.

We apologise to our customers for any inconvenience caused. We know that the brewers are trying to resolve the issue.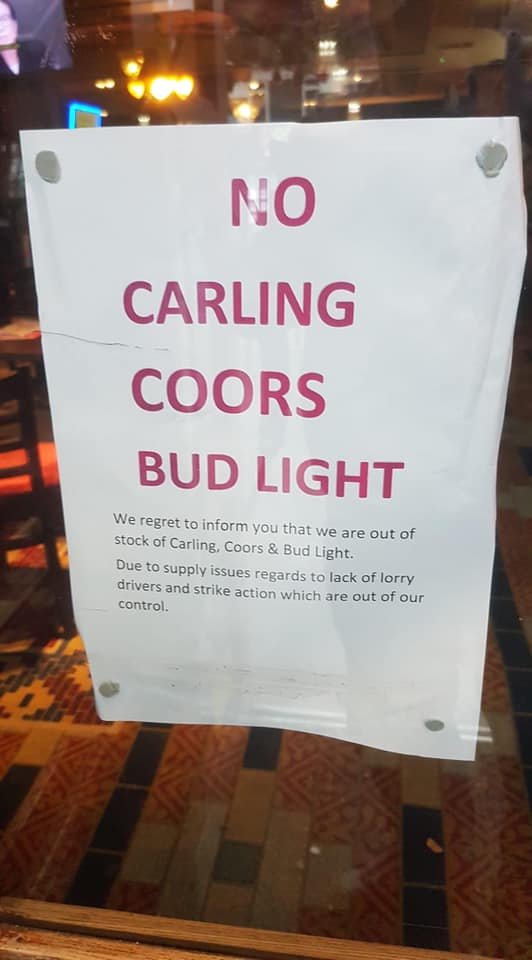 Pretty weak statement but I don't really know what else the guy could have said to be fair. Obviously though, everyone on Twitter has taken the opportunity to do what they do best on that site and have completely laid into Tim Martin for being such a vocal supporter of Brexit and now facing its consequences:
#TimMartin who advocated for Brexit, whose pub chain printed 200,000 beer mats bearing a message arguing for Britain to leave the EU..

Now facing staff & supply shortages

So how's #Brexit working out for you so far Tim? #wetherspoons pic.twitter.com/7DSvuPgYMl

— Pearl Noir (@noir_pearl) September 1, 2021
Whetherpoons new "Brexit menu" is the Karma Tim Martin deserves. https://t.co/6TdNJntBb2

— 🖤 JustStayin (@JStayin) September 1, 2021
Blimey, at this rate even Tim Martin's going to admit Tory Brexit's screwed up the country before Keir Starmer does.

— Daniel Grigg (@Daniel_Grigg) September 1, 2021
Tim Martin, the boss of Wetherspoons was one of the architects of #Brexit its now backfired on him, he's suffering what he said would never happen, namely beer/staff shortages, I've got no sympathy for this xenophobic dinosaur, you reap what you sow #BrexitReality

— Loz Argyle ⚓ (@ArgyleLoz) September 1, 2021
Here's a lament for Tim Martin, whose Wethrespoons chain is struggling with the realities of the Brexit for which he campaigned so loudly. https://t.co/dNnrcwqwr2

— Billy Bragg (@billybragg) September 1, 2021
I think its great Tim Martin is theming his business. Zero beers to go with the zero hours contracts for staff and his zero intelligence or foresight. https://t.co/aFsE1bEhA9

— Tiernan Douieb (@TiernanDouieb) September 1, 2021
If Tim Martin's running short of bad lager, why doesn't he just milk his own mooby duggs for a few pints of vinegary "SovRintY Ale" or "Brexit Brew"?

— DogLeg47 (@DLeg47) September 1, 2021
The horrors of #Brexit are finally dawning on Tim Martin. He and Wetherspoons deserve all that they get. pic.twitter.com/iQnVE2ItJn

— doddsy (@sdoddsy) September 1, 2021
I mean some of these guys have got some good rinses in there – shout out Billy Bragg – but do you really think Tim Martin is losing that much money over any of this? He'll just fire some of his employees, close some branches or dock their wages or something, duh. He'll be OK, people like that always are.
For more of the same, check out Tim Martin being unable to name one EU law he dislikes. Idiot.