I don't think I've ever really heard much about Paris Jackson, other than when Michael Jackson made her wear a mask when she was a kid to protect her identity, so it's a bit of a surprise that she's decided to re-emerge onto the scene in a movie where she's playing a female version of Jesus Christ. Nothing like flying under the radar hey?
Images VIA
The film is called 'Habit' and sees Jackson play a gender reversed version of Jesus, alongside Bella Thorne and Josie Ho, Gavin Rossdale of Bush, and Alison Mosshart and Jamie Hince of The Kills. It already sounds like a really annoying indie movie before I've even described the plot doesn't it? 
This concerns Thorne playing a street-smart girl with a Jesus fetish who masquerades as a nun while trying to escape the consequences of a violent drug deal. It's been described as 'very Tarantino-esque with a rocking soundtrack' by the director – hence getting so many musicians in to star in it. Good idea hey? 
Anyway, the movie wrapped before Coronavirus hit and is currently in post production, but obviously a bunch of Christians have heard about it and started a petition to make sure that it never reaches our screens. Here's what the petition says: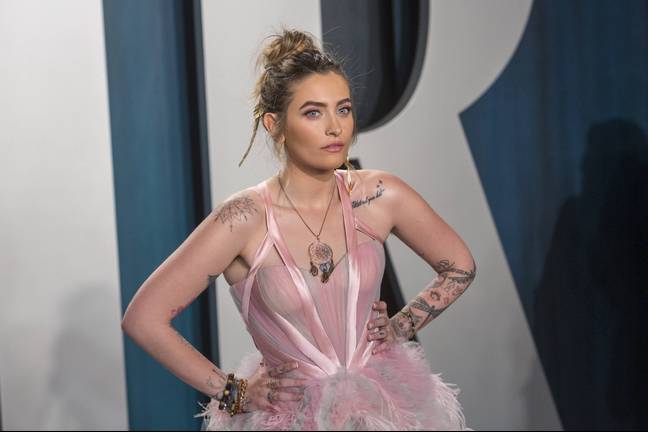 A new blasphemous Hollywood film is predicted to come out soon depicting Jesus as a lesbian woman. The film Habit stars Paris Jackson who plays the role of 'lesbian Jesus'.

Distributors haven't picked it up as of yet, so let's please spread awareness and wake people up to the Christianophobic garbage that is spread nowadays, but is somehow accepted and praised by society.
Lol never heard Christianphobic before – is that even a thing? I don't think that anyone has even said that Jesus is lesbian though in what I've read about the film so it seems like that's a bit of a jump on their behalf, but they would probably be offended even if she was just female, let's be honest.
Anyway, one petitions has got 250,000 signatures and another one has 70,000 signatures. No idea if it will have any effect and block the release of this movie, but I really don't think anyone who has spent ages working on the movie is really going to care what a bunch of Christians thinks, do you? If anything it's just got them more publicity so they're probably buzzing.
For more of the same, check out this modern day Jesus who wants to share his super sperm around the world. Wonder what they think of him as well?