Male 'throuple' Shayne Curran, 29, Sebastian Tran, 29, and Adam Grant, 27 are planning on having a baby together, to become stars in their own real life version of Three Men and a Baby (sort of).
The three male nurses from Halifax have been living together since 2012 and according to them, their polyamorous relationship is stronger than ever.
Yesterday, Shayne said:
We're the happiest we've ever been — all our dynamics and personalities work so well in a relationship. The three of us bring out the best in each other.
Adam added:
We want to make sure that we're all equally bound and obligated to each other in marriage.
Featured Image VIA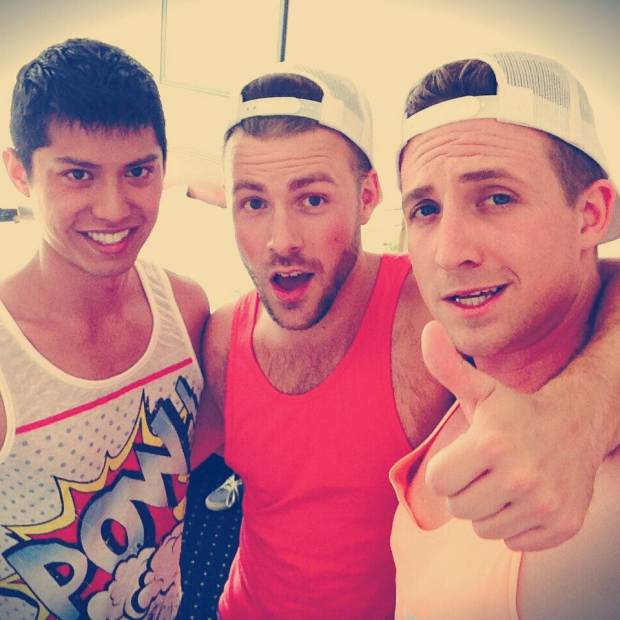 Image VIA
Looking to take things to the next level, the three men want to mix their genes together to create their very own child and it's likely that Sebastian's sister will be donating her eggs to make their collective dreams a reality. By doing so, the threesome feel that it will make their future child genetically closer to each of them, creating an even greater bond.
Although the 'throuple' are hoping the process will go to plan, they are also open to adoption; as each of them have stated, a child is a major part of their future together.
The threesome insist their relationship is just like any other normal couples' — having dinner with one another, looking after their dogs Tito and Tux, sharing household chores, sleeping in a bed together, watching movies and all that jazz.
Well, they say three's a crowd, but these three are certainly an exception to the rule and perhaps three dads are better than one – three lots of pocket money per week is certainly one bonus that springs to mind.
No matter what you may think of their living situation, these guys couldn't possibly be as bad as parenting as this pair of numbskulls.