Last week's general election was an unmitigated disaster for Theresa May, and it seems like it could get even worse for her in the coming weeks.
Featured Image VIA
Right now though, every day some new stat emerges that spells out disaster for her and the latest polls are revealing that she's now almost as unpopular amongst the nation as Jeremy Corbyn was before the election campaign began. The graph you can see below was compiled by YouGov and reveals that Corbyn's popularity has risen from -42 to 0 in the past twelve months whereas May's has fallen from +10 to -34.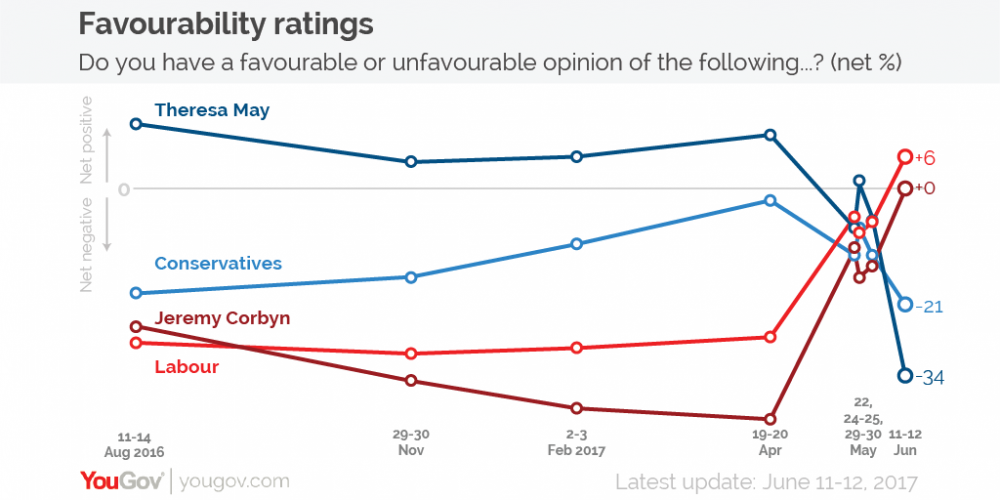 The approval rating of the Labour Party has also risen from -25 to +6 and the Conservative Party has stayed roughly the same at -20. Normally Theresa May's lack of a majority would lead to a call for a second general election by her Tory rivals, but this new data will probably deter them as it could mean that Corbyn and Labour could actually win any upcoming election.
So what does that mean for now? Probably that nothings going to happen in government and we're going to be fucked for the foreseeable future. Brilliant.
For more Theresa May, check out this excellent CassetteBoy remix of some of her policies. Always nails it.