In case you forgot, the naughtiest thing Theresa May has ever done is "run through fields of wheat". Really relatable and in touch with the common man there.
Featured Image VIA
Well it turns out the PM's wheat frolicking was an entirely sober activity and not the result of her blazing a giant zoot beforehand, as May has come out and admitted she has never smoked cannabis in her life. Shocker!
May was asked whether she had ever smoked marijuana as the government announced a review into the use of medicinal cannabis.
The PM's official spokesperson responded flatly: "No".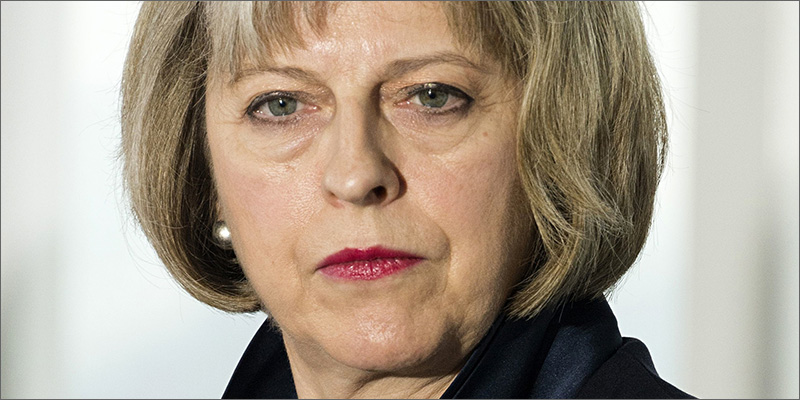 Interestingly though, Theresa's husband Philip May owns company Capital Group which is the biggest investor of GW Pharmaceuticals, one of the biggest cultivators of cannabis in the world.
The company grows it in the UK, where it's banned, and exports it to other countries where it's legal. Raking it in.
Anyway, Twitter had a (wheat?) field day with it:
Theresa May's spokesperson confirms the PM has never use cannabis. Bit of a silly question really. Everyone knows the naughtiest thing she's ever done is wrongly deport a large number of foreign born British pensioners.

— Tom Peck (@tompeck) June 19, 2018
Theresa May's government are going to legalise medical cannabis so literally anything is possible now. England will win the World Cup. Donald Trump will release his tax returns. Putin will resign. But Peter Hitchens will never stop talking rubbish about drug policy.

— Deej Sullivan (@sullivandeej) June 19, 2018
Theresa May says she's never taken cannabis. There's a surprise. The only person in the land more square than me.

— Stephen Daisley (@JournoStephen) June 19, 2018
I think we can all instantly believe Theresa May's denial that she has ever taken cannabis. Just not an interesting enough person.

— Ian Dunt (@IanDunt) June 19, 2018
Would love to see Theresa May running through fields of cannabis

— Gavin Sathianathan (@gavinho) June 19, 2018
Theresa May looks so uncomfortable and squirmy discussing cannabis legislation.. if only there was a herbal remedy she could ingest legally to chill her out before such events…. #CannabisOil #parliament #TheresaMay

— LITTLE LONDON (@Little_ldn) June 19, 2018
Theresa May's husband profits from the largest legal cannabis farm in the UK, which exports cannabis oil etc to the US while patients here are suffering without it.

— Sara Rickard (@sararickard15) June 19, 2018
WHY should you @theresa_may be able to go home at the end of your day and drink a glass of wine and we cant go home and smoke a joint???I'm assuming you're aware of the alcohol specific death rates in our country???Are you also aware no one has EVER died from taking Cannabis???

— QUEEN OF THE DAMNED (@Jasminelennard) June 19, 2018
Some fair points there.
The good news is that the Home Secretary has announced there will be an official review into the use of medicinal cannabis in the UK.
Sajid David clarified that the ban on recreational use will continue (boo), but he will consider evidence for giving the drug on prescription.
It has become clear to me that the position we find ourselves in currently is not satisfactory. It's not satisfactory for the parents, it's not satisfactory for the doctors, and it's not satisfactory for me. I have now come to the conclusion that it is time to review the scheduling of cannabis.'
For a look at the world's expensive spliff which got auctioned off earlier this week, click HERE.