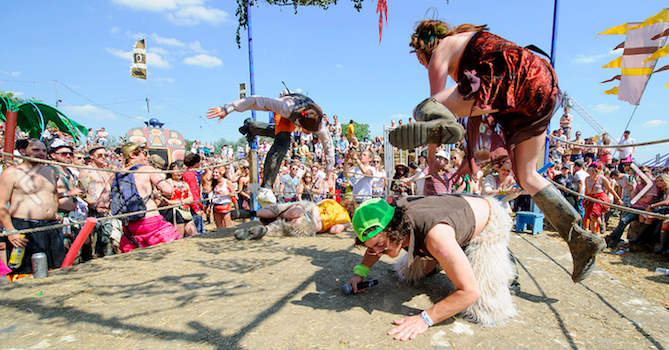 Normally when you go down to a festival you're probably expecting to watch a couple of bands and dance to a couple of DJ's and probably drop a couple of pills and drink a few beers and hang around in a field talking shit and telling everyone that you love them. Well, that might have been the traditional template at least, but things are changing in the festival world and that's why we're introducing you to The Dance-Off.
Interactive events have gone BIG. Dead are the days of dozily nodding along to a band or going to watch a film. We've all had enough of hearing and seeing; these days a lot of people aren't gonna be happy until they're part of the action. Theatre production companies like Secret Cinema have been turning their audiences into the cast for classic movies, and festival stages are upping the ante too which is where The Dance-Off stages comes in.
In case you haven't figured it out The Dance-Off is exactly that – a dance off between two people – but these guys take it up a level with an explosion of cream pies, confetti canons, party tunes and jokes drier than a mouth full of talc. We've been friends with these guys for a while since they first started back at Secret Garden Party in 2008 and have seen them grow over time and win a bunch of awards for their contribution to the festival scene, including the Best Festival Moment in 2009.
In their re-purposed boxing ring you can humiliate your enemy with your finely-tuned harlem shake, or simply watch from a distance as two lycra-clad nuns get a pie to the face from their 10-year-old victors. With the winner voted for by a fickle crowd, it's a joyful place where the professional break-dancer might take second place to the over-enthusiastic primary school teacher. Literally anything can happen, and probably will.
This year The Dance-Off will be hitting up Secret Garden Party and The Boomtown Fair (Sick Chirpse will also be in attendance) so if you're at either of those events then we highly recommend checking it out, whether you have the balls to compete or not.
Keep up to date at facebook.com/thedanceoffcrew and here's a promo video too:
☛ More Dancing:
Meet Storyboard P – The Brooklyn Street Dance King
Dude Pulls Off Awesome Treadmill Dance
Harlem Bake – Man Falls Into Fire Doing Harlem Shake
[yframe url='http://www.youtube.com/watch?v=uwpVkTBLkBU']