A former Transport for London chairman has revealed his empathetic side as he described the three 'graffiti artists' killed by a train at Loughborough Junction yesterday as 'common scum who will cost the railway millions'.
Featured Image VIA
Brian Cooke took to Twitter hours after the bodies were found and wrote the following:
Why do BBC News keep referring to the guys killed at Loughborough Junction as graffiti 'artists' they are no such thing they are common scum and criminals who cost the railway millions and keep fares high.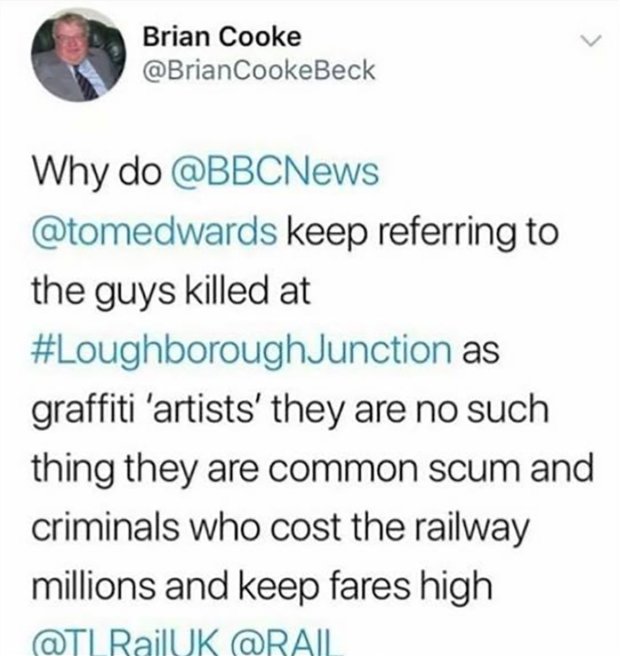 Perhaps not much of a shock seeing as this is the same plonker who was suspended by the Tories earlier this year for calling a political rival a 'two-faced slut'.
He was also sacked as chairman of London Transport Users Committee for 'inappropriate political activity'. Doesn't seem to learn his lesson this guy, does he?
Users have hit back at him:
What a horrible & disgraceful thing to say. They're people's sons, show some respect.

Three lives lost, undoubtedly a traumatised train driver… shame on you for such reckless and thoughtless comments and opinion on a tragedy spare a thought for their families before you type!
Cooke has since made his Twitter account private – what a coward.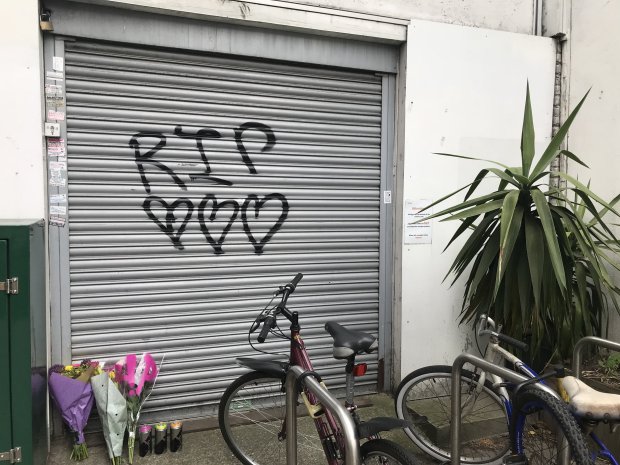 Friends of the three men who died continue to leave tributes on Twitter:
when I see new tags and graf track side I'm pleasingly reminded that we don't all live in a boring servile society. among the adverts spoonfed to us are small reminders that there are thrills to be had. RIP kbag, lover & trip. thoughts with your families. #LoughboroughJunction

— Hieronymous Bosh (@shsmbollocks) June 19, 2018
RIP Kbag, Lover and Trip ❤️ your art will live on.

— Morgan Tb (@morgantbphotog) June 19, 2018
Just a completely thoughtless Tweet, especially posting that so soon after the bodies were found. Something tells me Cooke won't appreciate these sublime examples of Islamic graffiti over in the Middle East either.