We've written enough about Tekashi 69 over the last year or so for everyone to know what an absolute scumbag the guy is – murders, racketeering, gun charges, drug charges, beating up his girlfriend, sexual abuse of a 13-year-old girl, the list goes on.
Featured Image VIA
So it's actually a bit of a shame that he's been given two years in prison instead of being released back onto the streets where no doubt there are dozens of gangsters who would love to have a word with him after he snitched on his entire crew to avoid receiving near 50 years in prison himself.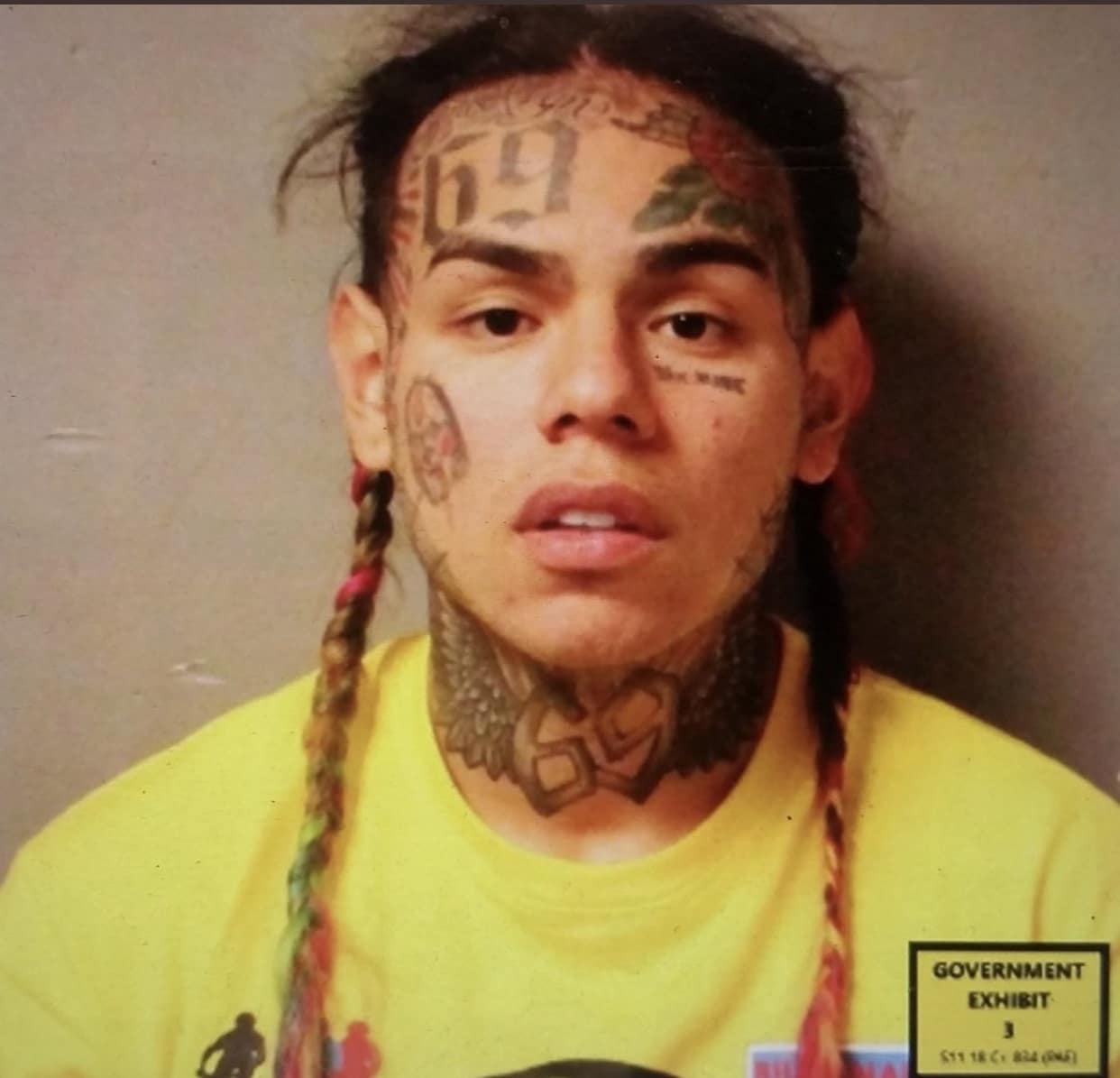 Not that anyone with a brain really cares about the "code" of not snitching on your fellow gangbangers, it's just that he's an utter lowlife who has got away with it big time after being sentenced to just 2 years this week: (Via Metro)
Tekashi 6ix9ine has been sentenced to 24 months in prison with five years supervised release. The Fefe rapper, real name Daniel Hernandez, was arrested in November 2018 and had faced 47 years in prison after admitting to joining the Nine Trey Bloods gang which he contributed to financially. He had been facing federal counts including charges of racketeering, conspiracy, drug trafficking and firearms offences.

 Over the past year, Tekashi has been cooperating with the US Attorney's office and turned on other members of the gang to receive a lesser sentence. Prosecutors had also submitted their own request for Tekashi to receive a lighter sentence in light of his cooperation.

Tekashi testified that his role in the gang, which he said he joined in November 2017, was simply to keep making hit music in order to bankroll its activities. He also testified that he participated in violent crimes such as assaults and shootings as well as drug trafficking.

In the days before his sentencing, Tekashi wrote a letter to Judge Engelmayer, apologising for his gang affiliation. The 23-year-old rapper wrote: 'As my sentencing date approaches, I am becoming more and more overwhelmed with emotions. It honestly feels like my world is crashing down. There is no excuse, no justification and no apology good enough in this world to explain my crimes. While I have been incarcerated, I have had time to reflect on the recklessness and foolishness of my decisions. 'I wake up every morning asking myself was it worth it?'

After describing himself as a 'victim', Tekashi said he promised to use his experience to try and steer others away from making the same bad choices he did. Despite reports that Tekashi would be going into witness protection if released from prison, TMZ claimed the rapper had turned down the offer and would be choosing 'a life of fame'.
If you're interested in a commentary of what went down at the actual hearing, some guy on Twitter covered it HERE. It's not really worth reading but there was one bit where he told the judge he doesn't want witness protection upon his release because he wants to continue living a 'life of fame' once he's out. Lol – good luck what that one mate.
P.S. One rumour circulating was that Tekashi decided to snitch on his buddies after discovering they were all banging his girlfriend. Sucks if true.