You may remember that Tekashi 69 was facing 50 YEARS in prison, but thanks to the fact he snitched on all his buddies he ended up with only a 24 month sentence. However it looks as though he STILL won't STFU and serve his time for all the gangster activities he was involved in.
Featured Image VIA
As per TMZ, Tekashi believes he is at serious risk behind bars and has had his lawyers file document requesting that he is allowed to serve the rest of his 24-month sentence under house arrest or in a community correctional facility.
6ix9ine fears it's only a matter of time before he is violently attacked or worse because he ratted on the Nine Trey Gangster Bloods and the private jail he's currently in is chock-full of Blood gang members. Not ideal really.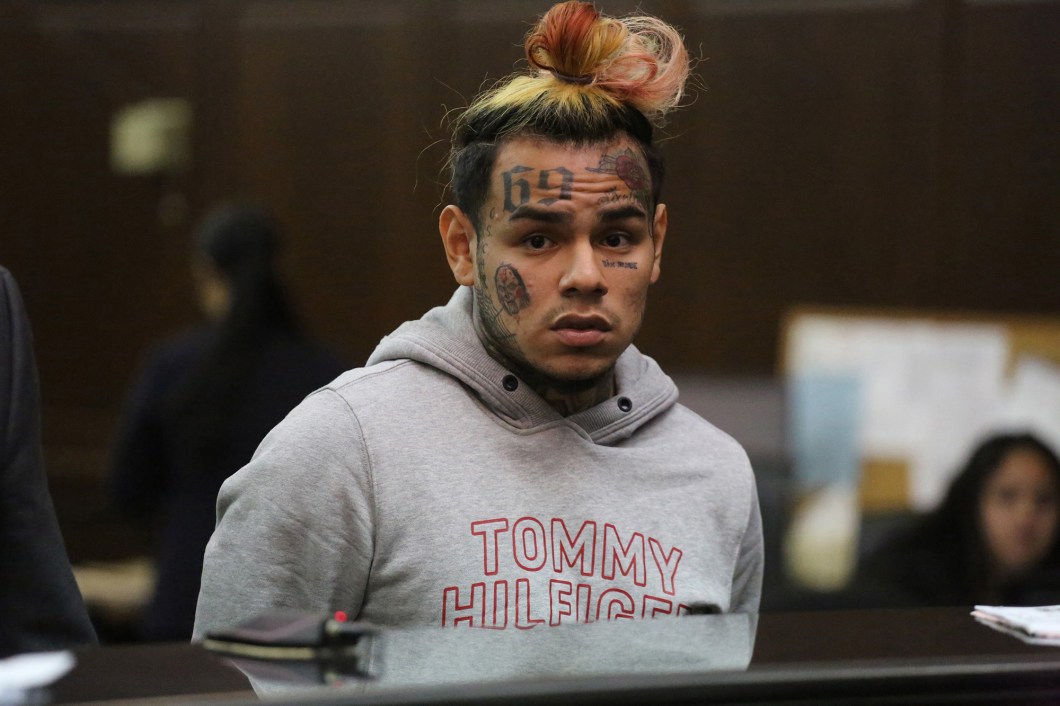 Tekashi has already served about 14 months of his sentence and has been fine so far but who knows, maybe he's heard or seen something that suggests an attempt on his life is imminent. Even still – you do the crime, you do the time. And Tekashi 69 did a LOT of crime and is lucky he only has to serve 24 months in total.
Apparently he wrote a personal letter to the judge describing himself as a victim and begging for leniency, promising he'll use his experience to steer others away from making the same choices he did. Which is all well and good but unfortunately for Tekashi that's not how jail works. You can't just bitch and moan until they eventually let you out – you have to sit behind bars and think about what you did and in his case be thankful he isn't spending the rest of his life in prison considering he participated in gangland beatings, shootings, drug trafficking, racketeering, and all the rest.
Besides, is it necessarily safer for him out on the streets than it is in prison? It's not like he can hide away from his enemies with all those dumb tattoos on his face. Well I guess he'd get to spend some time with his girlfriend again, so that's something.