I've already written one article about a new pigs in blankets themed meal today, but this offering from Subway is so outrageous that I just couldn't turn it down.
Featured Image VIA 
We've seen supermarkets release one foot long pigs in blankets over the years, but Subway have decided to blow that out of the water by offering a new six foot long pigs in blankets themed sub. The sub is capable of feeding up to three households – perfect for your five day Christmas support bubble – or the entire office for a special festive lunch. If you're still going into the office that is.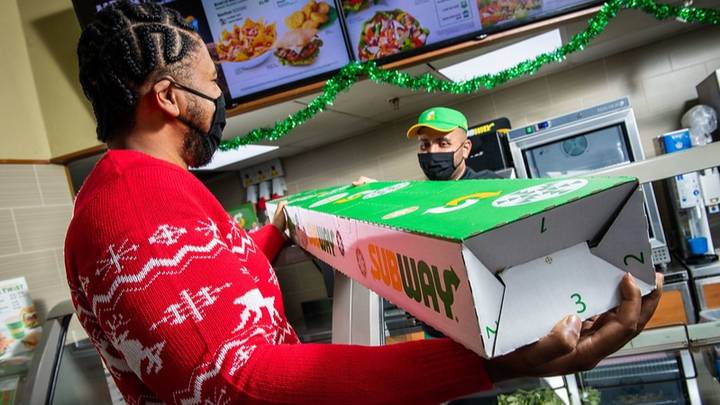 The sub consists of 36 delicious pigs in blankets, 64 slices of American cheese, 24 slices of tangy red onion, 96 slices of juicy tomato and 96 slices of mixed peppers. All of that is added to a bed of spinach on Subway's new 'Tiger Bread' before being smothered in Southwest sauce.
Actually sounds pretty awesome doesn't it, but don't worry. If you don't want to buy a six foot 'Tiger Pig' or don't have enough friends to fly appreciate it, you can still buy a regular six incher or foot long for a normal price. They're already available in store but the six foot 'Tiger Pig' will become an option from next Wednesday December 9th in select stores in Manchester, London and Northern Ireland. I guess nowhere else can handle that many pigs in blankets or something?
For more of the same, check out the pigs in blankets pizza. Can't get enough of the bastards this Christmas.