If there's one thing that the people in charge saw when they heard about the Coronavirus pandemic, it was dollar signs – and it seems like this has filtered through to the littlest of the little guys as well.
Images VIA 
Oliver Cooper is a 13 year old boy who attends Dixon's Unity Academy in Leeds and saw the opportunity to make money off his fellows classmates by charging them 50p a go to use his big tub on hand sanitiser that cost him £1.60. You would have thought that kids weren't so cut-throat and would have just shared stuff with their friends at this age, but I guess I'm being naive in a post 'Wolf Of Wall Street' world.
Here's what Oliver had to say about his 'enterprising' idea to SWNS: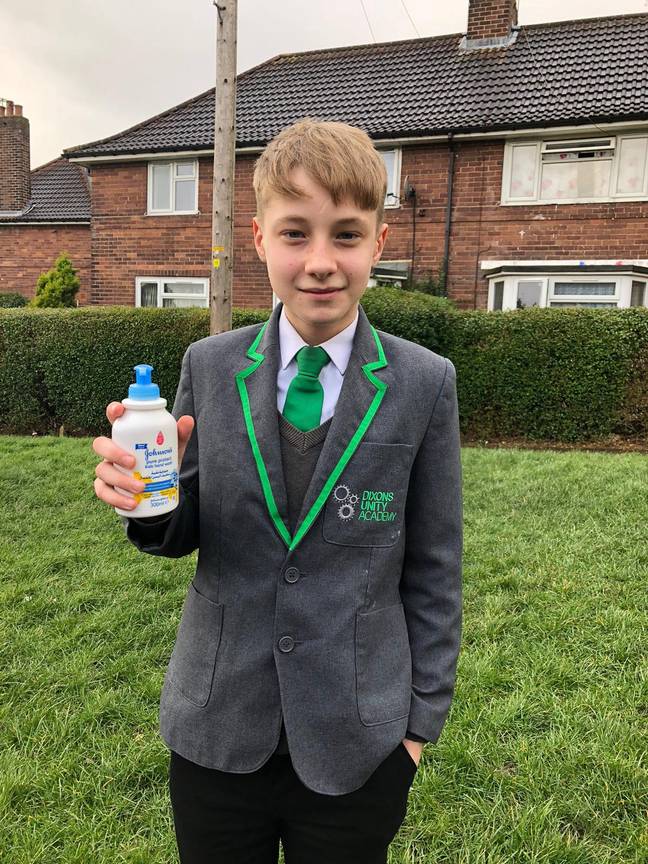 I usually listen to music on the way to school on my phone, but it's broken, so I've been using an old Nokia and all I can listen to is the radio.

They've been going on about the coronavirus and how important hand sanitiser and washing your hands is. So before the bus came, I bought a tub of hand wash from Tesco and offered to it my mates. They gave me the idea that I could charge for it, so I did.

Other people at school sell stuff like chewing gum. If somebody wants something, they will pay for it. Loads of people wanted this.
I suppose it is the first rule of business – supply and demand people – but I still can't help but think that Oliver is being a bit of a smug little cunt about all this, don't you? Maybe we should be praising his 'entrepreneurial spirit' but when you're preying on people's deepest fears I think that maybe it would be nicer to show a bit of a compassion once in a while.
Thankfully, the school agreed with my view of things and sent Oliver home from school, where he spent the profits on a multipack of Doritos and a doner kebab. He says being sent home from school, the two hour detention he will receive and a day in isolation was totally worth it.
Seems like he's got the mindset to make it in big business. No doubt we'll see Oliver following in Martin Shkreli's footsteps in the future and pioneering a big pharma company. Clearly it's in his genes.