The signposts seemed to be everywhere; from Drake's enthusiastic endorsements of Skepta, to Kanye's shenanigans at the Brit awards with a healthy portion of the Grime scene jostling about in the back.
A cursory glance at the YouTube comments on Skepta's Devilman diss track suggests there's been something of a push back against Grime's recent American attention, although as usual with YouTube comments, take it with some salt – a whole lot more than a pinch.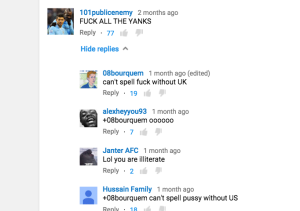 The question in the UK invariably becomes why? Is it really necessary to have American validation for the Grime scene in the UK to have "made it"? The question leads those so philosophically disposed to fall down a wormhole of yes and no.
Grime finds its roots in the UK Garage scene of the late 1990s, with nods to Dubstep, Drum and Bass, Bassline, Hip Hop and Dancehall. It's also very clearly an English response to US Hip Hop for those sorts of disenfranchised people from the big cities that Hip Hop so appeals to in the US.
Of course UK Hip Hop does exist, like French and Swedish, however they all stay firmly under the umbrella of Hip Hop, a musical idiom under which the American export will forever dominate.
[youtube http://www.youtube.com/watch?v=RqQGUJK7Na4]
Grime is different. It's a distinct genre at a much more frenetic speed, characterized by intricate 2-step, 4×4 breakbeats typically around 140 beats per minute (whilst Hip Hop tends to be in and around 100 bpm). The space and time for lyrics are thus rather more restricted, the bar's more snappy, the message distilled yet impactful and progressively more poetic.
If it finds it founding in a distinct desire to be different, why should the scene need American validation?
But then if the scene has sought to make its own way, rooted in distinctly UK urban sounds, then why should it smirk at the notoriety and greater exposure that American cosigns and BBK tats most definitely bring?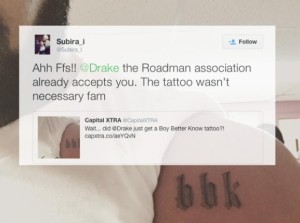 The Musical Socrates could lose their soul asking these questions, screaming into a vacuum filled by subgenres and appropriation.
The reality is this – the UK Grime seemed to be on the wane in the late 00s, so where it finds itself now is something to celebrate. Whether your everyday American is going to be putting his gun finger in the air to the sounds of London's finest is highly unlikely.
Americans do well at ruining every genuinely underground movement they pick up, but Drake's embrace of Skepta at Wireless Festival felt real, and Stormzy's success in the International UK Act category this year – like Krept & Konan's win last year – seems to suggest a real breakthrough in the American market and American consciousness.