Charlie Sloth has helped many artists on their journey up from the gutters and – as annoying as the chubby fucker is – a lot of our favourite rappers wouldn't be where they are today without him. His Fire In The Booth segment on Radio 1Xtra can quite literally make or break careers.
Featured Image VIA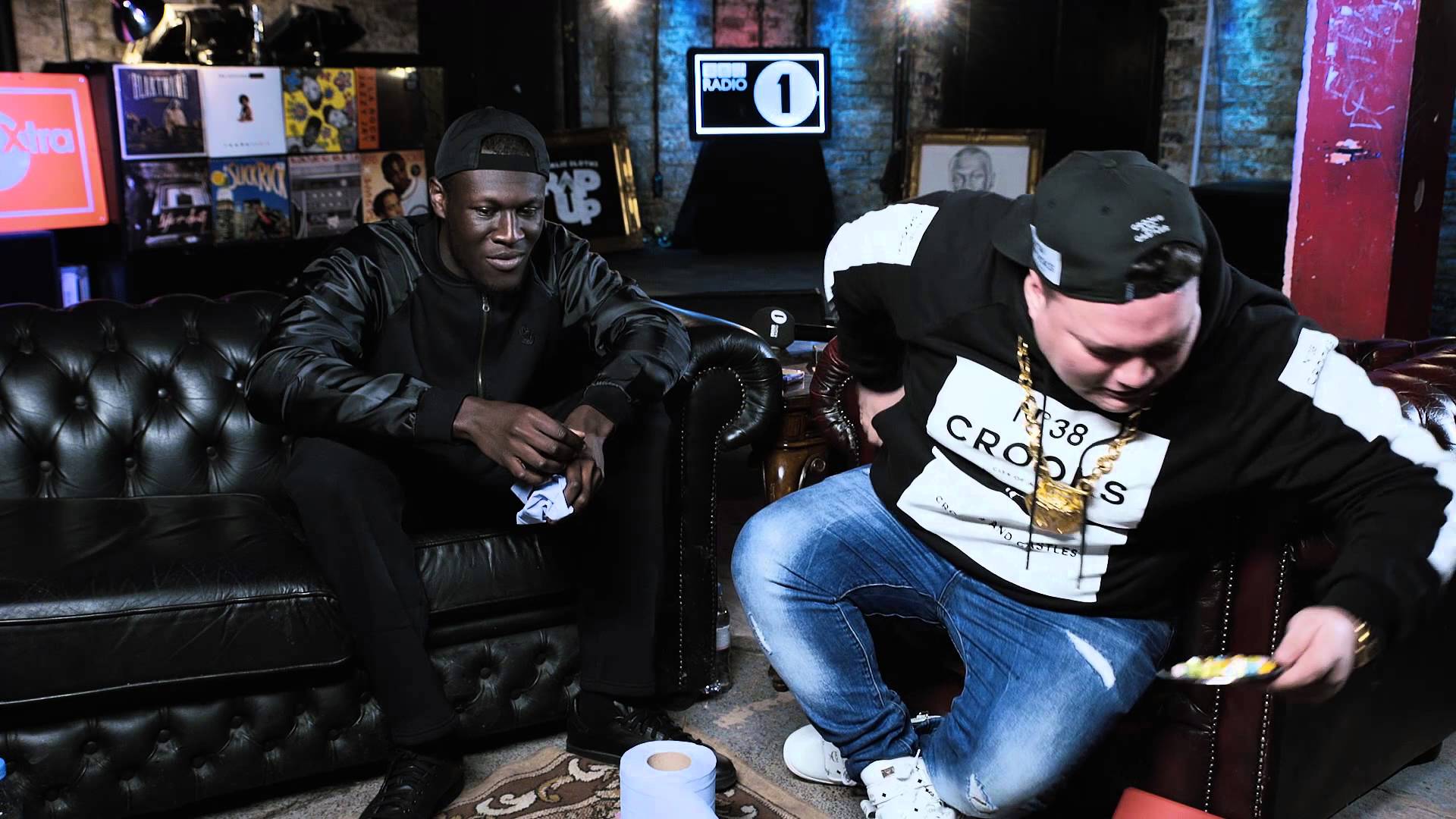 Over the years there have been some incredible artists that have graced Sloth's booth, but the latest one has caused quite a stir. In just under 24 hours his 'freestyle' has racked up almost 150,000 views and it brings a whole new meaning to the term 'fire'. R.S. (AKA Roll Safe) basically rocks up to the mic in a leather jacket that even the most embarrassing dad would avoid; underneath which, his bare torso is on display.
Things are already looking a little strange, and they don't get any better from here. The moment Roll Safe starts referring to Sloth as 'baby' (although, he does sort of look like an overgrown baby, to be fair?) you can tell something weird is afoot. In the space of a little over 12 minutes, R.S. manages to do everything from bragging about his weighty Casio wrist piece, to sending for Stormzy with some career shattering bars:
Image VIA
Hold tight Stormzy

You wanna get Merky

Your breath stinks just shut up

Your breath sticks just shut up.
Naturally, Stormzy was having none of it:
R.S. then proceeds to inform Krept and Konan:
There's a new boss in town
Who took the send in their stride:
https://twitter.com/kreptplaydirty/status/664125819174920192
He also shares his views on the recent Chip and Bugzy Malone beef before a hilarious and climactic exit.
Check it out for yourself below:
In case you missed the satire, R.S. (AKA Roll Safe) isn't actually a rapper. He's a character played by comedian Kayode Ewumi (co-written by Tyrell Williams) and is the star of a YouTube mockumentary.
It's almost impossible to pick a favourite moment from his Fire In The Booth. Although, if I was pushed to choose, it would have to be a toss up between the awkward exchange over Roll Safe's boys in Manny and his 'bredren' getting the producer in a headlock:
Your bredren's got my producer in a headlock, still. Can you ask him to let go?

Who got in a headlock?

Like, the dude over there with the jumper.

Oi, [to Charlie] leave him. Let him do what he's got to do.
Classic.
Another top moment was, of course, their disagreement over the pronunciation of 'prejudice' which is just pure hilarity. Who knew Charlie Sloth was actually capable of being funny? I honestly thought he could only communicate by screaming and talking through sound FX – like some kind of Stephen Hawking deal.
The whole episode is just one enormous fucking spectacle. In my opinion, the guy deserves an Oscar for this performance. Forget Leonardo Di Caprio and his weird animal carcass fetish, this guys facial expressions and his unwavering lisp are clear signs that he should be posted up in Hollywood making some serious moves on the acting circuit. Maybe stay clear of the music industry though.
If you can't get enough of his bad boy attitude check out the Hood Documentary, when an 'independent filmmaker' follows him round his endz for a day. Truly gritty stuff:
Sure, his bars may be weak, but he's still a better rapper than this guy.