Someone told a lie one day, a poison lie that accidentally permeated through all of Western culture for thousands of years. (Oops.) The lie was this: that men can fuck as much as they like, and women can't. It was a lie spread by men. Men anxious about adultery and misattributed paternity. It is a lie we need to retire.
Sadly this lie seems determined to whir its way around our little lumps of brain meat until our planet's swallowed up by the sun. But why would you care how many cocks a girl's sucked? Who gives a fuck? She can suck a thousand cocks for all I care. She can suck a million cocks. Or no cocks at all. So long as she's happy. Some guys will treat a girl like a sex object and then get all pissed off if she has sex with anyone other than them. Because heaven forbid she actually enjoys herself. It's the worst kind of hypocrisy. And I want to kill it. In the face.
☛ Next: What Do Girls Think Of The Word 'Cunt'?
The truth is, if you've had a lot of sex, that doesn't mean you're a slut. It means you're a human being, comfortable enough in your sexuality to enjoy one of the few things in this life that isn't complete shit. And not having sex doesn't mean you're a prude, it means (shock, horror) maybe having someone lick you out isn't on your top list of things to do that day. And that's fine too.
The only positive thing about slut-shaming is it makes arseholes more readily identifiable.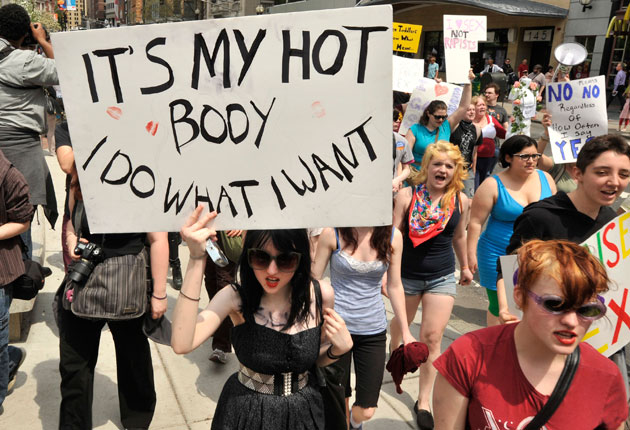 Part of the problem is a lot of our morality still comes from a book written by a two thousand year old desert cult. So much sexual repression and misogyny can be traced back to the Abrahamic religions. The idea that something fun and natural is somehow wrong. But sex wasn't always seen as sinful. People used to have sex in church. Sacred prostitution. It happened a lot in Mesopotamia, for example. And the Mesopotamians weren't stupid either. They invented the fucking wheel.
It's your body to do with as you please. Wear what you want. Fuck who you want. There's no such thing as a slut. If anyone tries to dictate a dick limit to you, they're trying to take ownership of your body. And that's slavery. If they call you a slut, that's slavery. And I refuse it. Suck an infinite number of cocks for all I care. Or don't suck any. Or suck your own. It's all good.
I'll get a lot of hate from guys on this post. That's to be expected. It's easy to ignore oppression when you're not the one being oppressed. But I'll still dream of a world where people are judged on the content of their character, and not the number dicks they've had in or around them. Amen.