It's been well documented that Bam Margera has had a whole load of problems with addiction and substance abuse since his rise to fame with the 'Jackass' crew and during the latest one of these he accused the gang of abandoning him whilst they were shooting a new movie.
Featured Image VIA
The other members of the crew stayed silent on the matter at the time, but after Bam doubled down on his comments over the weekend against Johnny Knoxville and director Jeff Tremaine in a video posted on Instagram, Steve-O felt obliged to speak out and give us his version of events:
View this post on Instagram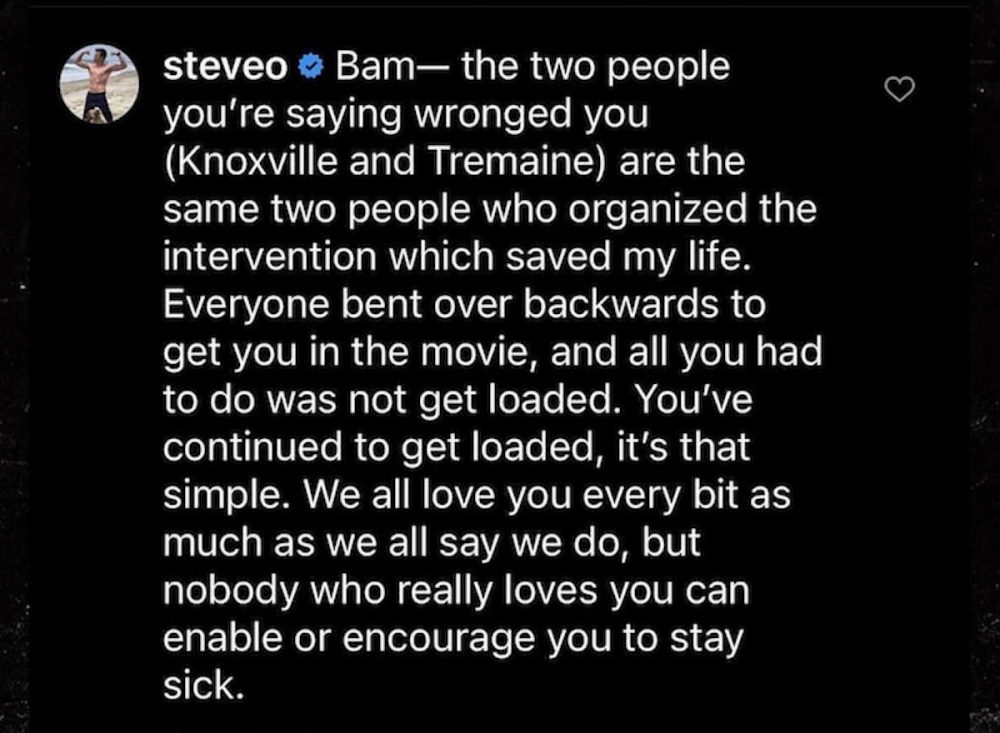 Wow. Neither of them are mincing their words there are they? Of course at this point it's impossible to know who's telling the truth and whether Knoxville and Tremaine betrayed Bam or Steve-O's story is correct, but given that Bam seems to be a major alcoholic at the moment you're probably going to be less inclined to believe him.
It seems like he's receiving some treatment down in Florida for his condition so let's hope that he manages to sort himself out. Given how many times he's been through this process though I'm not that confident about it though. Guess we'll see, but we're all rooting for him.
For more of the same, check out Steve-O telling us about the closest he's ever come to dying. He's had a life hasn't he?