Seems like it's a tough time for drug dealers getting their product into this country as we're hearing more and more hard luck stories of the inventive ways that they're trying to operate in this trying time – and sadly how they're also being caught as well.
Images VIA
The latest anecdote comes courtesy of a Polish registered van that was stopped in Coquelles on the French side of the Channel Tunnel on Tuesday. The 34 year old Polish driver tried to make out like he was shipping protective face masks over to the UK, but on closer inspection the border patrol found 14 kilograms of cocaine hidden within the boxes containing the masks. Busted.
Here's what Border Force Regional Director for Coquelles Ian Hanson said: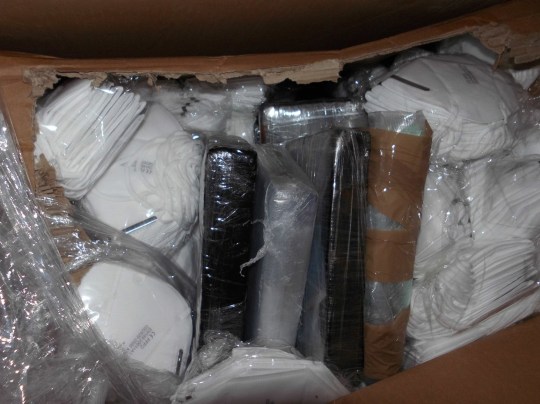 This seizure shows the lengths drug smugglers will go to.

It is despicable to think they would try and exploit the current situation in this way to get their dangerous drugs on to the UK's streets.

It is testament to the expertise of my Border Force officers that this smuggling attempt was prevented and shows we remain active on the frontline in keeping the country safe from illegal drugs and the harm they cause.

Every year Border Force officers seize Class A drugs worth hundreds of millions of pounds. Working with law enforcement colleagues like the National Crime Agency (NCA) we are determined to prevent drug trafficking.
Alright mate we get it you made a big bust, no need to parade around like you're trying to be the next Prime Minister or anything is it? Gotta say that I don't really think it's any more despicable that they would ship blow in with protective face masks than it is any other method either, but well done on your big bust buddy.
Other thing that this really exemplifies is just how many Brits are still desperate for drugs during lockdown. I suppose we could already half guess the grim reality of that though, couldn't we?
For more of the same, check out this cocaine dealer who tired to argue he was a key worker. Kinda got a point.