A 50 year old Sheffield photographer went viral after he took a selfie of himself giving rap legends Public Enemy a lift to their arena show in his Ford Focus after they were stranded at an autograph signing.
Kevin Wells was nipping into the signing to get an autograph at the Record Collector store when the band's taxi back to the arena – where they were supporting The Prodigy – left without them as they were still talking to fans:
Public Enemy had a taxi booked for 6.30pm, but it drove off before the guys had finished signing autographs.

People started panicking and looking for someone to drive, so I volunteered.

They were such nice guys, we had a right laugh.

We were chatting away, but the phone was constantly going as their management were clearly worried.
Images VIA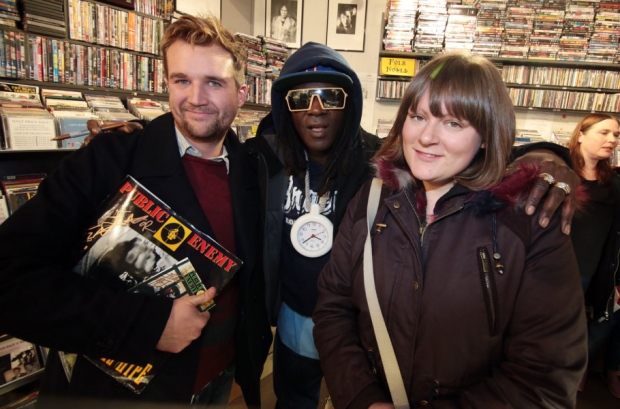 Then as we were coming through Attercliffe, Bohemian Rhapsody, by Queen, came on the radio.

Everyone was singing the words and rocking out in the back of my car, it was like a Wayne's World moment.

I was looking in the rear view mirror thinking, 'is this actually happening?'

We got to the arena about 15 minutes before they were due on stage.

I drove up to security and said, 'I've got the band in the back.'

They looked at me as if I was having them on, but then I rolled down the windows and Chuck D showed them the security pass.

Amazing, it just didn't feel real.

It was the most surreal journey of my life.
Unfortunately for Kevin, he didn't get to stick around for the gig – he surely would have been on the guestlist after that – because he had to go and photograph Scouting For Girls over at The Academy.
That must have been the biggest bummer ever – imagine if you could have been side stage for a Public Enemy show but had to go and see fucking Scouting For Girls instead. Absolute buzzkill.
If you aren't convinced that Scouting For Girls suck, then read this immediately.