The footage of a 24-year-old girl who racially abused a bouncer outside The Figure Of Eight in Broad Street, Birmingham the other week has now been viewed over 2 million times.
Here's a reminder:
I haven't been doing security for years like some, but in the short time I've been doing it I've seen and been through pretty much anything there is to see and go through whilst doing the job. This however, is something I, or anyone who looks like me shouldn't have to go through. pic.twitter.com/4rPiiriTuH

— hotboiitrizzy (@hotboiitrizzy) May 23, 2021
Outrageous behaviour and frankly unbelievable in 2021. The suspect, from Worcester, was originally detained on Tuesday after the clip went viral and she attended a police station at West Midlands Police's request.
Amazingly, the girl used the classic "I'm not a racist I've got black co-workers/dated black men" excuse when apologising for the incident on Instagram: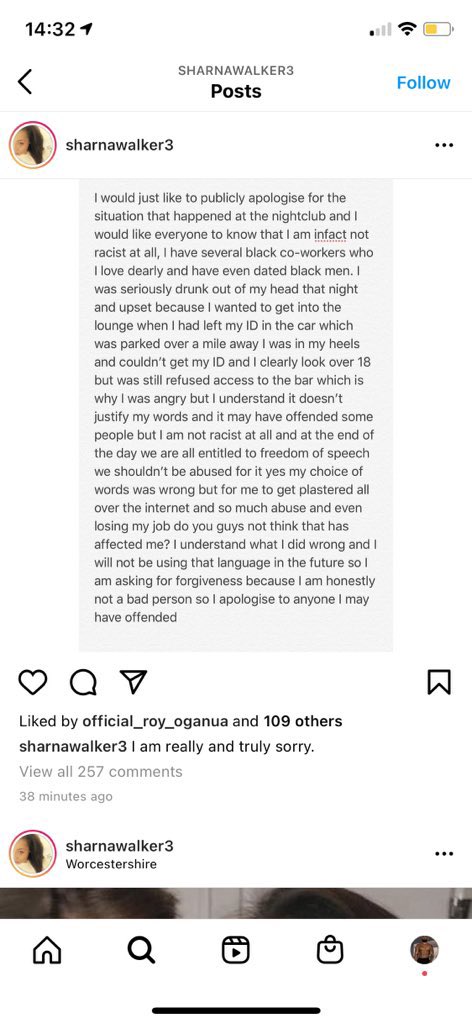 Possibly the worst apology I have ever read in my life.
According to Metro, Sharna has now been released on bail with conditions, including not to enter Birmingham, while police gather witness evidence before presenting a file to the CPS. Probably sound advice, not that she'd have been planning to head back into Brum anytime soon. I'm not sure what 'witness evidence' the police are looking for given the whole thing is on film and a pretty straightforward case of a young, drunk girl racially abusing a black guy, but I guess that's just how these things work.
Fair play to bouncer Jason Price for not letting this one slide, as he may have done in the days where this sort of abuse was more prevalent. Lesson learned for Sharna and anyone else like her, hopefully.
For the Dunkin' Donuts employee who punched an elderly customer to death after he called him the N-word, click HERE. Fair response?