The saga of the ISIS bride Shamima Begum continues and the latest twist is that she actually WON'T be allowed to return to the UK for her trial after being told earlier this month by a judge that she could return for it.
Featured Image VIA 
Lord Justice Flaux – sitting with Lady Justice King and Lord Justice Singh – said the following at the start of July:
The only way in which she [Begum] can have a fair and effective appeal is to be permitted to come into the United Kingdom to pursue her appeal.

Fairness and justice must, on the facts of this case, outweigh the national security concerns, so that the leave to enter appeals should be allowed.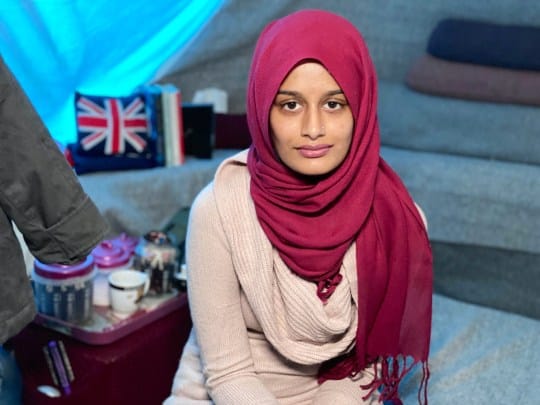 However, the Home Office has now successfully won their appeal with Sir James Eadie QC arguing the following:
There is a big issue at stake surrounding principles that should govern a case in which someone can't have a fair hearing, not as a result of any of the Secretary of State's actions, (but) where that is the result of going abroad and aligning with terrorist groups.

This cannot be assumed to be unique given the number of people who have joined terrorist groups and could set a dangerous precedent.
I mean that makes sense doesn't it – although I'm not sure how many people are actually leaving the country to join terrorist organisations – but I'm not sure where it leaves Shamima in terms of her appeal to have her citizenship returned. Not really sure that many people are bothered though considering she left this country to join ISIS, although considering her three children have all died and she's been stuck in a refugee camp for the last couple of years she's probably more than paid the price. If ever there was an advertisement to not join ISIS, then her life is definitely it.
For more of the same, check out this ISIS leader who was so fat that they referred to him as Jabba The Hut. Oooof.