While the UK gears up for the next installment of Love Island, thrill-seekers looking for a different kind of lovin' this summer are heading to Nevada for another Sex Island party.
Images VIA
The event has been mired in controversy ever since it started a couple of years back, by offering those who attend unlimited drugs, booze and hookers.
Warning: this video ad is NSFW…
The latest sex fest – held between July 4 and July 7 – is being organised by Good Girls Company, and will kick off with a US Independence Day orgy. Although previous parties were held in the Caribbean, the 2019 edition is kicking off at a rather apt location – Las Vegas, aka Sin City.
What with the backlash Sex Island has received in the past, there are no details about the specific venue, although we do know that tickets don't come cheap, costing $6,000 (£4,600) a pop.
For this amount, guests will be treated to all the booze they can drink in a marijuana-friendly environment, along with an allocated two "beautiful" women each day. In addition, attendants will be picked up at Las Vegas International Airport by a private helicopter, which will fly them to the undisclosed island.
Although you might think this is a male-only environment, the site does say couples are welcome too:
Enjoy the company of 100 beautiful girls, in our alcohol and marijuana friendly environment.

The girls' mission is to please you and make you feel like a king.

If you have any specific fantasies, let us or the girls know, and we'll turn your fantasies into reality!

Enjoy breathtaking surroundings with your girls at the one and only Sex Island.

There are 50 tickets for 50 guests, each ticket includes the company of 2 beautiful girls – each day for an unlimited amount of sex during the 4-day trip.

There'll be 100 girls available for you. All of our girls are tested and free of any sexual diseases.

We have a strict condom policy. At any moment you can switch girls with the other 50 guests.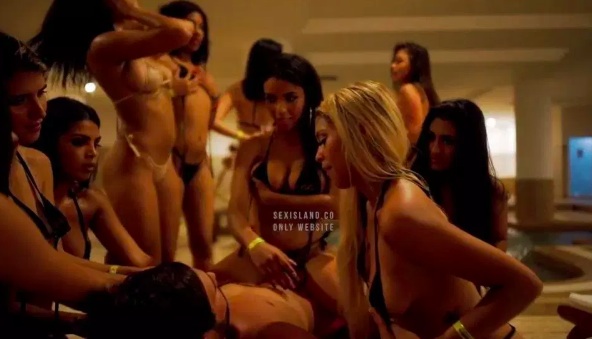 And if anyone gets bored of all the shagging, the organisers are also offering activities like horseback riding, casino visits and a poker tournament to keep guests entertained.
In short, it sounds like Sex Island 2019 is set to be more mental than ever before. Oh yeah, and if you're wondering how this sort of party holds up in the post-#MeToo world, the site does state that all the girls are 18+ and participate on their own free will.
All the girls who join, participate at their own free will and are above the ages of 18 years old. The safety of our girls and clients is one of our highest priorities.
For more on the event, read about the 16-year-old kid who lost his virginity at Sex Island, only to then fall in love with the first escort he had sex with. Classic teen.