Things are getting worse and worse for Donald Trump following his ill thought out remarks about Muslims travelling in the United States. Not only has he been 'disqualified' from becoming President and could potentially be banned from visiting the UK, but now Scotland have sacked him as their Global Ambassador and had his honorary degree from Robert Gordon University in Aberdeen revoked.
Trump has served as Global Ambassador for Scotland since 2006. The GlobalScot program is a worldwide network formed under a Scottish Development International scheme and made up of more than 700 business leaders with strong links to Scotland – Trump's mother was Scottish and he owns a bunch of golf courses in the country.
Its ambassadors aim to promote a positive image of Scotland, foster good relations in the global business community and encourage inward investment. Clearly Trump's recent comments weren't exactly promoting this ethos.
A spokesperson for the Nicola Sturgeon – who effectively stripped Trump of his title – had the following to say:
Mr Trump's recent remarks have shown that he is no longer fit to be a business ambassador for Scotland and the First Minister has decided his membership of the respected GlobalScot business network should be withdrawn with immediate effect.
Featured Image VIA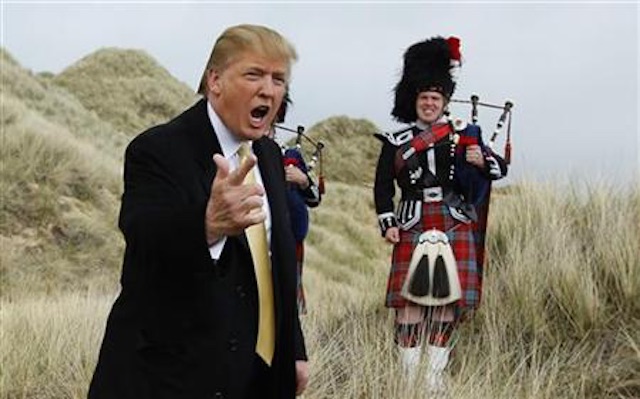 Image VIA 
The Robert Gordon University had presented Trump with the award of Doctor of Business Administration (Hon DBA) in October 2010. It probably had something to do with the fact that one of Trump's companies was investing £274 million into a golf and leisure development in Aberdeenshire.
RGU had this to say yesterday though:
In 2010, Robert Gordon University awarded an honorary DBA to Mr Donald Trump in recognition of his achievements as an entrepreneur and businessman.

In the course of the current US election campaign, Mr Trump has made a number of statements that are wholly incompatible with the ethos and values of the university.

The university has therefore decided to revoke its award of the honorary degree.
Ouch. I suppose he didn't really do anything to get the degree but it's probably still going to be a bummer that he can't put those letters after his name anymore. I wonder what's going to happen next in the week from hell for Donald Trump. Hopefully his entire business empire will collapse.
If you need any more info on why he's an idiot, then check out the video below:
https://www.youtube.com/watch?v=r5xGxmCDZis