New details around the shooting of BLM UK leader Sasha Johnson have been released after her friend Imarn Ayton gave an interview to the BBC.
Featured Image VIA
As far as Ms Ayton is concerned, the 3am Peckham shooting was gang-related and Johnson was not the intended target:
As far as we're aware she [Sasha] was at a party and there was a rival gang that may have heard about a person being there that they didn't feel comfortable with, or trusted, so they resorted to driving past and shooting into a garden. And one of those shots obviously hit Sasha Johnson. But I don't believe she was the intended target.
She added:
This incident is more related to rival gangs than to her activism. There was some kind of dispute between two different groups.
Welp, there go the theories about MI5 taking her out, although we haven't necessarily heard the last of those. The good news is that Johnson has apparently had 'successful' surgery in hospital, so it's sounding more likely that the mum-of-three will be OK. Gotta be one tough bastard to survive being shot in the head, that's for sure.
A marquee has been set up in the garden where Johnson was shot: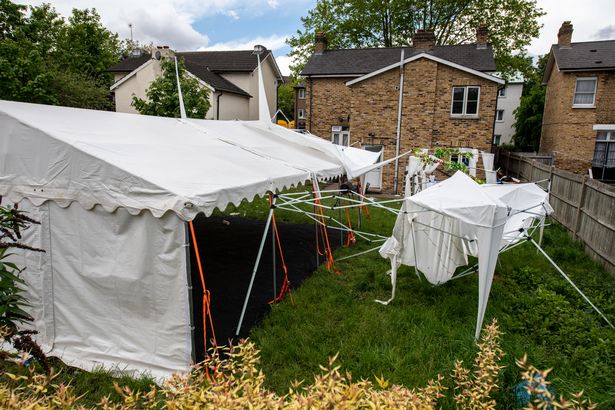 Another friend of Sasha's wrote on Facebook:
Let me put this out their now for all the people speculating! Sasha Johnson was not the intended victim!

It was nothing to do with blm or any work she does, she was caught in the firing line.
A neighbour told MailOnline they heard two gunshots and "screeching" tyres at about 3am.
A woman then screamed and shouted the word 'help'. I was too frightened to look out the window.

My husband is blind and he was really worried about what was going on too, he was almost having a panic attack.

I knew they were gunshots straight away. It's terrifying that a shooting can happen virtually on my doorstep.
Sounds like another weekend in Peckham. Here's hoping those responsible are brought to justice before they do the same to anyone else.
To watch a bunch of fights break out at the 'All Lives Matter' protest in California the other week, click HERE. Cringe.