It's well known that frozen ice thickness can be difficult to judge. Not only that, but it can be tricky finding your way out if you fall through the ice. You'd think guys living in countries with loads of them dotted across the landscape would know this intrinsically, i.e. Russian guys. But then when you think about it, and specifically about Russian guys, you realise they're capable of just about any crazy stunt.
The unnamed man who ended up driving his Lada into oblivion bet his mate he could drive across a barely frozen inner-city pond in Zelonograd, near Moscow. The man managed to surface, but his Lada fared less well, and footage of the incident shows the car being driven across the ice-covered pond before going in the water.
A man making the video can be heard encouraging the driver to go further out, but suddenly the ice cracks and the car starts to sink. Then he can be heard saying:
The ice has cracked, get back, if it breaks you'll have to swim all the way here on your own, I won't go in there.

This is how 200,000 roubles (£1,868) sunk in a pond.
Featured Image VIA
https://www.youtube.com/watch?v=9wvt0Pe8J3A
Further footage, which appears to have been filmed after the driver has returned to the shore, shows him declaring:
I just drowned my Lada. The ice turned out to be too thin.
The man involved in the incident is in his late teens or early 20's, and reports suggest he was pissed. Not surprising, when you consider that only days later the pond/lake looked like this: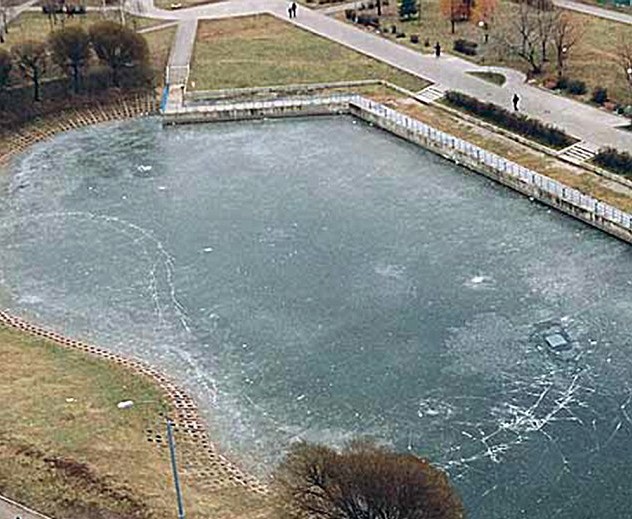 Image VIA
Members of the local emergency services eventually recovered the car from under the water. The owner is expected to receive a hefty fine for pollution and wreaking havoc in a public place, but let's be honest, we've seen mad shit o-plenty done by the Russians before.