Remember the 16-year-old Russian football player who got zapped by a bolt of lightning 3 weeks ago just as he went to kick the ball into the net?
Here's a reminder:
https://www.youtube.com/watch?v=7zgfMWUj7I4&feature=emb_logo
Ivan Zaborovsky was left in a coma following the incident, as his team Tweeted out the footage alongside a lightning bolt emoji – lol:

Well the good news is that 3 weeks later, against all odds, Ivan is out of a coma and back on the pitch ready to play again, which pretty much demolishes the stereotype of footballers being hopeless pussies who go down like a shotgun blast and stay injured with the faintest of touches.
Then again this kid is Russian and I'm pretty sure lightning can't kill you if your last name ends with 'ovsky'. Probably just put him on an IV drip filled with vodka and he was right as rain in no time:
Huge congratulations to 16-year-old goalkeeper, Ivan Zaborovskiy who has signed his first professional contract with the club.#FCZT pic.twitter.com/DlkONU7z6z

— Znamya Truda FC 🚩 (@ZnamyaTrudaFC) July 21, 2020
As you can see, Ivan's recovery and comeback were so badass that Znamya Truda FC offered him his first professional contract. Well deserved! Especially since that video literally makes it look like he evaporated into thin air and now he's back out there playing football 3 weeks later like he didn't just have a billion volts of electricity annihilate his body and turn him into dust on camera. Like I said – Russians are simply a different breed.
His girlfriend Yelena told Podyem Media:
He regained consciousness but due to a strong painful shock he had to be put back into a coma.

He has a scar around his neck where the lightning hit his chain, and… his lung was damaged.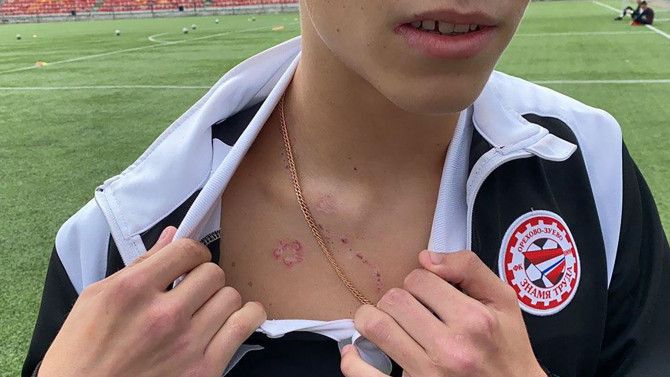 For the shocking moment a woman on the beach was struck by lightning on camera, click HERE. Haha, 'shocking' – get it?
[via MailOnline]