A crazy video out of Russia this week shows a 16-year-old footballer being struck by lightning on the pitch just as he goes to kick the ball into the net.
Featured Image VIA
Ivan Zaborsky was taking part in a training session when the bolt struck him and literally looked like he got vaporised:
Момент удара молнии ⚡

На сегодня состояние стабильное, кардиограмма в норме, сильные ожоги на месте входа и выхода разряда молнии. Угрозы жизни, по словам врачей, нет.#знамятруда #ореховозуево pic.twitter.com/nfJIvjKYaC

— Znamya Truda FC 🚩 (@ZnamyaTrudaFC) July 6, 2020
https://www.youtube.com/watch?v=7zgfMWUj7I4&feature=emb_logo
The randomness and suddenness at which that can happen is just terrifying. I mean imagine having a kickabout in the park with your friends and suddenly getting blasted with a billion volts of electricity before waking up in hospital without a single clue what hit you. I know it's likely because the incident was filmed on some budget Russian smartphone camera or something but the poor kid literally looked like he turned into a pile of dust.
Pretty mental how his team then Tweeted out the video alongside a lightning emoji – lol.

Good news is young Ivan is in stable condition and looks like he's going to pull through.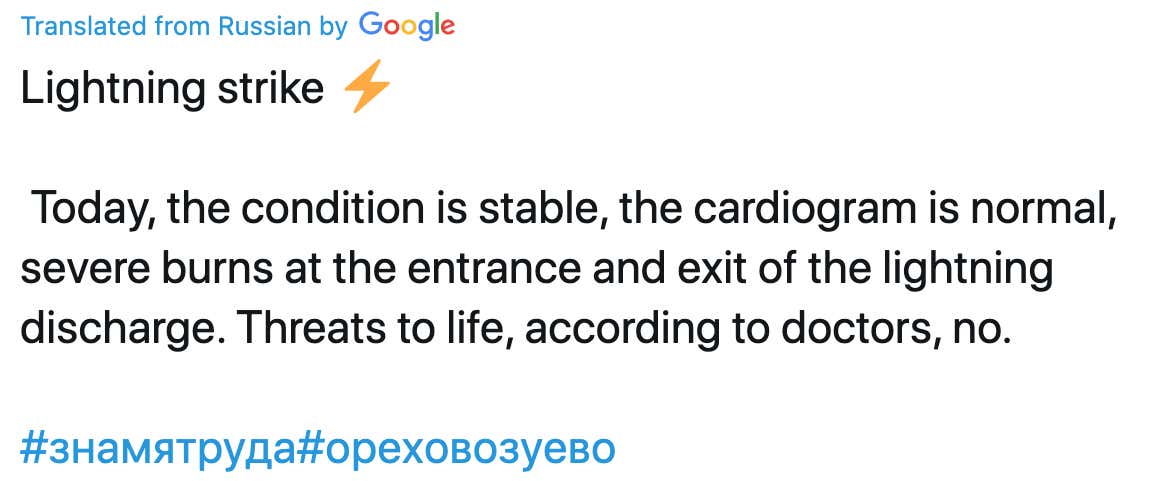 Wishing him a lightning-quick recovery (sorry).
For the horrifying moment a woman on the beach was struck by lightning on camera, click HERE.