The world is still recovering from Anthony Joshua's shock defeat to Andy Ruiz Jr over the weekend at Madison Square Garden and now rumours are flying around that he was knocked out and seriously hurt in his training camp beforehand.
Featured Image VIA 
World Boxing Camp is reporting that Joshua was floored by Joey Dawejko, a 28-year-old 5′ 10″ heavyweight who was brought in to help Joshua get ready for facing a bigger man in the style of Ruiz during the training camp. Unfortunately, it sounds as if that didn't go for him so well and there are also rumours that he was carrying an injury before the fight as there was a large bruise and cut on his face in the run up to the fight.
When asked about these, Joshua gave the following excuse: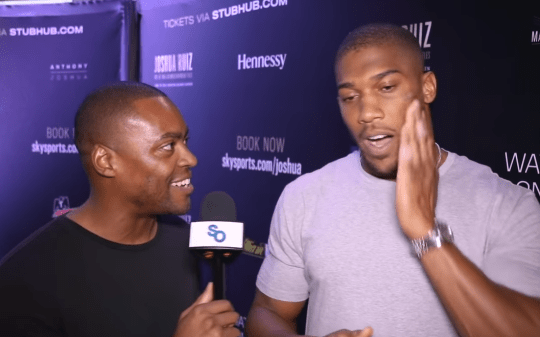 Oh no, that was just physio stuff really.

No-one really does that to me in sparring and stuff like that. So that was just more physio stuff. But that's it.

Physio stuff, you know. Like rehabilitation and recovery.
Hmm, not really sure what kind of 'physio stuff' would leave marks like that, but I'm not a physio or a boxer so maybe there is something?
People also seem to be saying that Joshua wasn't looking himself during the fight and maybe the fact he got knocked out beforehand could have something to do with this? Joshua himself isn't using it as an excuse though so there is that, but it seems like there's something fishy surrounding the whole incident to me to be honest. Guess we'll see in the coming months before the rematch.
Before then, did anyone else notice how The Simpsons predicted the result of the fight all those years ago? Crazy.