Following on from Ronda Rousey's week from hell after being knocked out by Holy Holm and then too embarrassed to show her face on her return to the United States, things are getting even worse for her as former manager Darin Harvey has come out of the woodwork to bitch her out as well.
The pair split in 2013 and are currently involved in a heated legal battle, as Harvey believes that he stands to lose at least $1 million for his role in her rise to the top. He spent this money on legal fees and investing in her career before he saw a chance to see a return on it after she unceremoniously ditched him.
Harvey claims that he hired a publicist and a world class photographer to create press kits shortly after he started managing her, and that these played a key role in her development. Possibly sure, but maybe the fact that she was completely sick at fighting until the weekend had a hand to play in that as well and not just your little press kits mate?
He had the following to say about her:
Featured Image VIA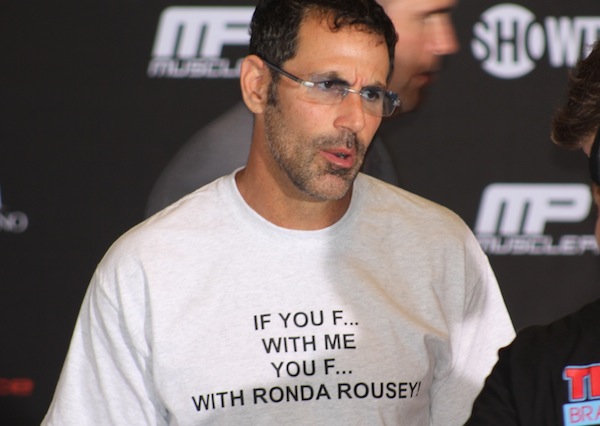 Image VIA 
And she thought it would be OK that she didn't owe me a dime.

Just so much emotion.

She was like a daughter to me at the beginning.

She would spend the night at my house before all of her fights.

I created a monster.

She believed she was as special as the press made her out to be.

They give me absolutely no credit for the success of her career.

She's not a good person. You don't forget where you came from.

It was kind of bittersweet on Saturday.

Part of me was elated and part of me was saddened.

The part of me that was saddened was that once I was identified with representing the top female fighter in the world.

No longer do I have that title.
Well, he certainly doesn't sound too butthurt about the deterioration of their relationship, does he? In fairness though if someone had ditched me just before they started getting really famous and cut me out of any potential returns I'd probably be pretty pissed off at them too. Maybe not as much a cry baby as this guy though sure.
Whether any of that is true though is another matter, and I guess we'll just have to wait to see what happens in the court battle during Ronda's downtime. Chances are it isn't the last we've heard from her though, as there have been at least a couple of stories about her every day this week, including Floyd Mayweather's surprising comments over her loss yesterday.