It's been about a month since Ronda Rousey got KOed by Holly Holm in what was probably the biggest UFC fight of all time. Since then, she's laid low and the world hasn't really heard from her, but it's clear that she was going to be pretty devastated by what happened to her.
Rousey has finally broken her silence though in a far reaching interview that was published by ESPN today. It's really, really long and pretty extensive, featuring interviews with everyone from her mom to her sister to her trainer to Holly Holm herself, but we've picked out Ronda's key quotes and presented them here for you.
One major part of the the interview is that she reveals that her face is completely messed up from that kick she took to the face – she hasn't been eating much and although some of the stitches in her lip are dissolving, some of her teeth still feel unstable even now:
Featured Image VIA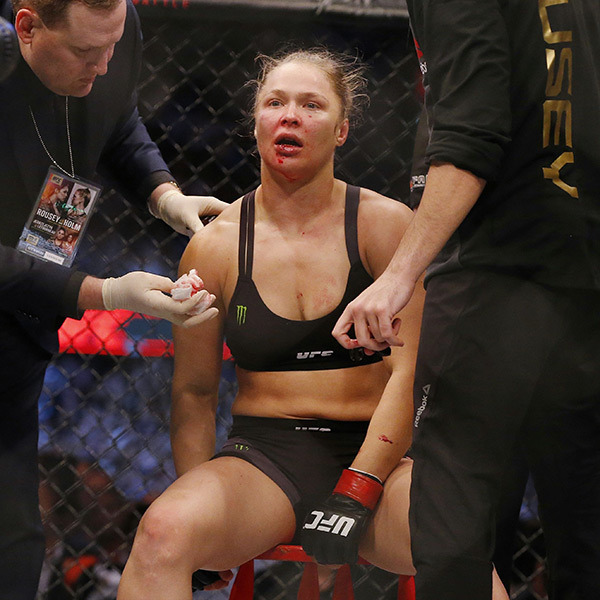 Image VIA
It might be three to six months before I can eat an apple, let alone take an impact.

I'm just really fucking sad.

I need to come back. I need to beat this chick.

Who knows if I'm going to pop my teeth out or break my jaw or rip my lip open. I have to fucking do it.

I've turned off my phone. I haven't looked at it. I've just been having long conversations with Mochi [her 7-year-old Argentinian Mastiff].

I was thinking, 'On the bright side, I'm more like crushed idealism and sardonic sense of humor now.

I wasn't thinking clearly. I had that huge cut in my mouth and I just spit [the blood] out at my feet. Then they brought the bucket over and I'm like, 'Why didn't I spit it in the bucket?' I never spit on the ground.

It was like a dumbed-down dreamy version of yourself making decisions. … I was just trying to shake myself out of it. I kept saying to myself, 'You're OK, keep fighting. You're OK, keep fighting.

I just feel so embarrassed. How I fought after that is such an embarrassing representation of myself. I wasn't even fucking there.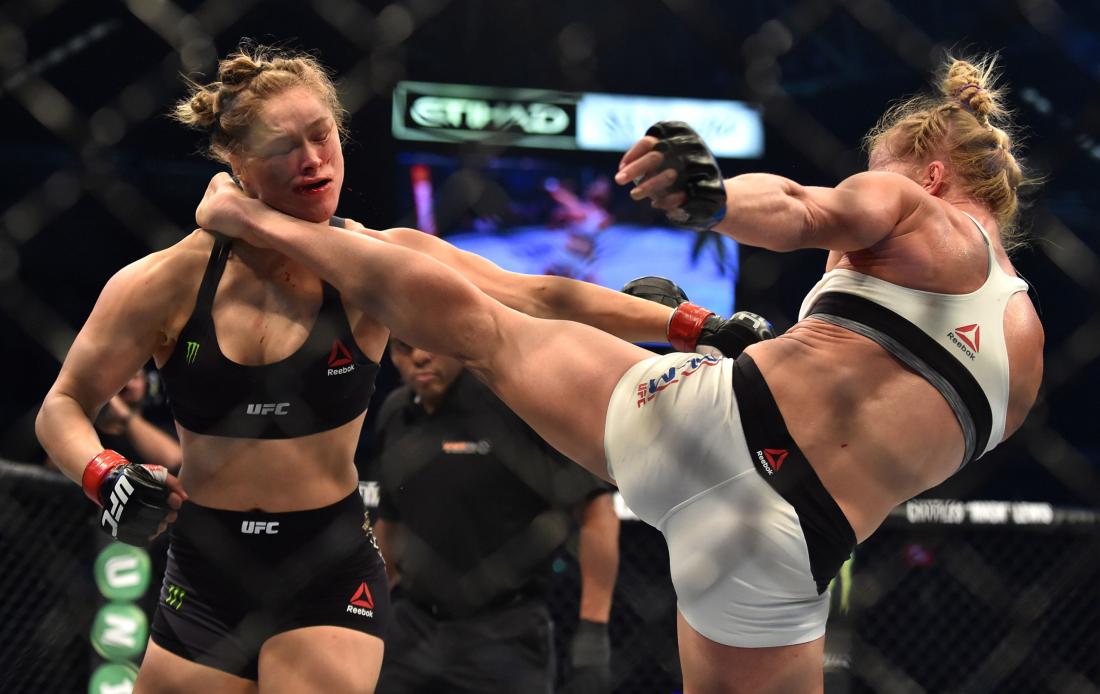 Image VIA
I feel like I'm grieving the death of the person who could've taken down male hegemony with an armbar.

I always say you have to be willing to get your heart broken. That's just what fucking happens when you try.

After the fight I just drove through Texas with Travis (Browne, her boyfriend who is also a UFC fighter). It was freezing.

I kind of just slept a lot and ate fast food.

First I was so sick I couldn't eat anything. Then I just slept and pooped in the woods. I used a whole roll of toilet paper in one day.

Physically, my body was refusing its own failures. It was, like, sick of itself. Expelling itself. Like all the skin came off my face. My whole body flushed it out.

I'm a fucking failure and I deserve everything that I got.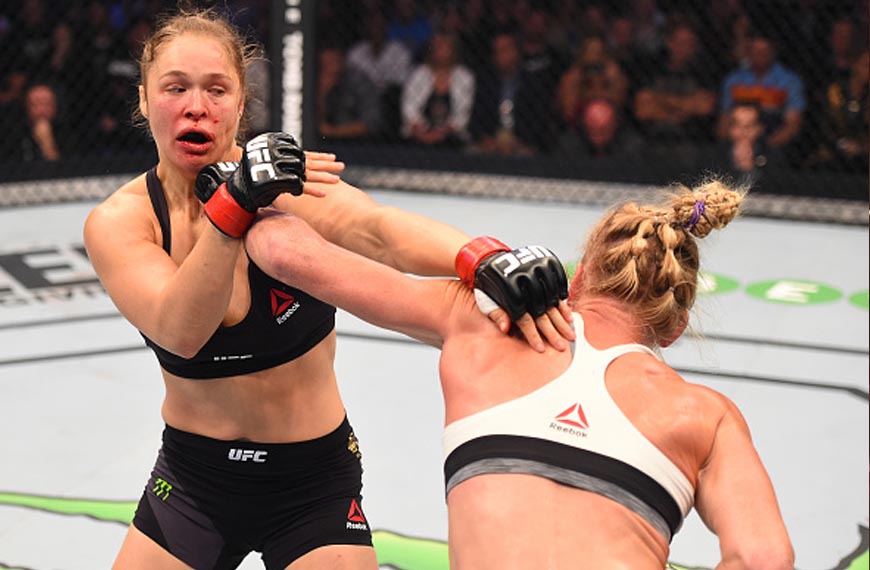 Image VIA 
Not touching gloves with Holly was a reaction.

I was like, 'The last time I saw you [at the weigh-in], you were putting your fist on my chin and trying to get a cheap hit on me, then you turn around and you want to touch gloves?

You have to be one way or the other. So if you want to be that way with me, that's the way it is.

I guess it's all going to be determined by what happens in the rematch.

Everything is going to be determined by that. Either I'll win and keep going or I won't and I'll be done with everything.

I always think I can lose all of them. I'm the only one that's scared when I walk in there. I'm always fucking scared.

But of course I'm going to fight again. What else am I going to fucking do?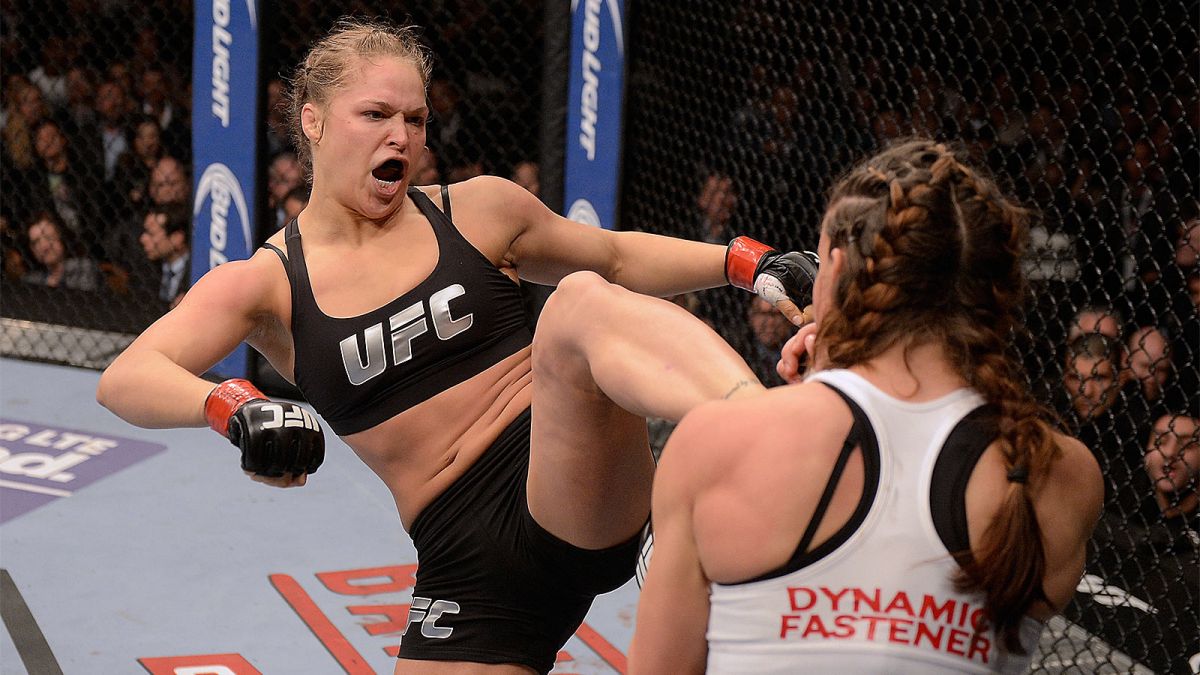 Image VIA
Well, sometimes they say you have to go to the bottom to get to the top and it certainly sounds like Ronda has been residing there for the past few weeks. It's only a matter of time before she steps into the ring with Holly Holm again, and then we'll really find out if she's a legend or just another Do Nothing Bitch.
In the meantime, we've got McGregor V Aldo to look forward to this weekend which could be as dramatic as the Rousey/Holm fight.