A long time ago, we reported that The Rock had a major issue with Vin Diesel on the set of 'The Fate Of The Furious' (which I'm still annoyed isn't called 'The F8 Of The Furious') and apparently even recently they still weren't getting along and were kept apart on the press tour.
Featured Image VIA
However, amidst worries that both actors might not make it to 'Fast And Furious 9' (The F9al Countdown?), sources have moved to announce that the beef has been squashed and both actors are 100% committed to the future of the franchise. What's more, the real cause of the beef between them has been revealed and it isn't what it was originally thought to be – that Vin Diesel was arrogant and late all the time – but something far more petty and stupid.
Here's the full scoop, courtesy of TMZ: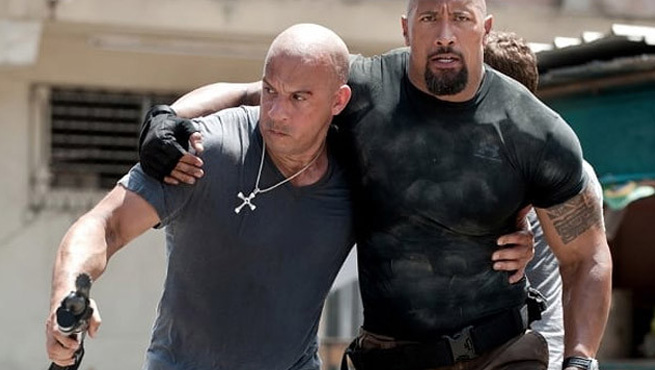 The sources are opening up about the feud… one explaining it was all over "real estate."

In movie language, real estate is all about how much an actor shines — who gets the best action scenes, who gets the hottest girl, who shows off their body more, and who gets the most face time.

It became a big issue for Dwayne and Vin, but ultimately, Dwayne acknowledged it was Vin's movie — he's listed #1 on the call sheet.
Lol – all over 'real estate' huh? I find it kind of hard to believe that The Rock would be such an asshole over something like that (and also that 'real estate' is a thing in the movies) when he's the highest grossing actor in Hollywood these days. But I suppose when you're coming up against Vin Diesel in the world's biggest franchise, egos are running high.
Let's hope we don't see a repeat of this on the set of F9 so that we can see at least ten more Fast And Furious movies in our lifetimes. Please guys – I'm begging you.
For more of The Rock, check him out hitting the world's longest golf drive. Is there anything he can't do?