Is there a bigger ego boost than having an absolute demon like Rihanna tell the whole world that you're the best she's ever had? Probably not. But that's just normal life where Leo DiCaprio is concerned — one day you're flying in 20 supermodels to fight over you at a NYE private beach party, and the next you're carrying on a years-long affair with the biggest pop star on the planet while her ex-boyfriends beef each other at random clubs across America.
According to one of Rihanna's friends:
Their chemistry is off the charts. Rihanna loves Leo's attitude about life, and he thinks her laid-back demeanour is irresistibly sexy. She says he's the best she ever had.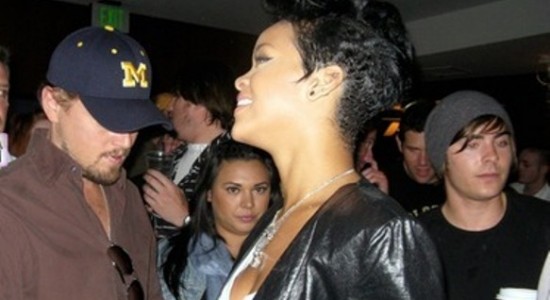 They also shared this ridiculous story about Leo spotting Rihanna in a club back in 2009 (from US Weekly):
DiCaprio had his eye on Rihanna s far back as May 2009. During a night out with friends at L.A. club Villa, he stared at the beauty "for an hour," says an eyewitness, even asking the DJ to move his equipment out of the way so as not to obstruct his view. They flirted again at the Coachella music festival in 2011. By then, they were "party friends," shares an insider. "They've rocked in the same room a lot." Notes the friend: "Leo's had her to his house for get-togethers.

To ring in 2015, they brought the fun to the beaches of sunny St. Bart's. Using their respective crews as cover, they hung together all week. "Rihanna is sexy, and they have a connectin," says a DiCaprio source. "She's the kind of girl to keep you on your toes – smart and a little unpredictable."

Neither one is looking to make this anything more than fun," explains a source. "He's into her, and they're enjoying it." Two free spirits, they are not the types to commit. DiCaprio, off to shoot The Revenant in Atlanta in February, has blamed his work schedule for his long list of failed affairs. And Rihanna, says a source, dumped ex Drake when he started taking about buying a ring. "This," says the insider, "is a no strings kind of deal."
There you go. It's Leo's world, and we're all just living in it. No doubt Rihanna's enjoying the Vitamin C showers (literally) round his.