Remember Kendall Jones? She got a lot of stick around a year ago after uploading some brutal selfies of herself posing with wild animals she'd killed.
Well Ricky Gervais has just sparked off the same kind of hate campaign on a lady from Utah named Rebecca Francis who's horrified everyone by sharing this particular shot of herself chilling happily by the corpse of a giraffe she killed in Africa. Here's Ricky's Tweet: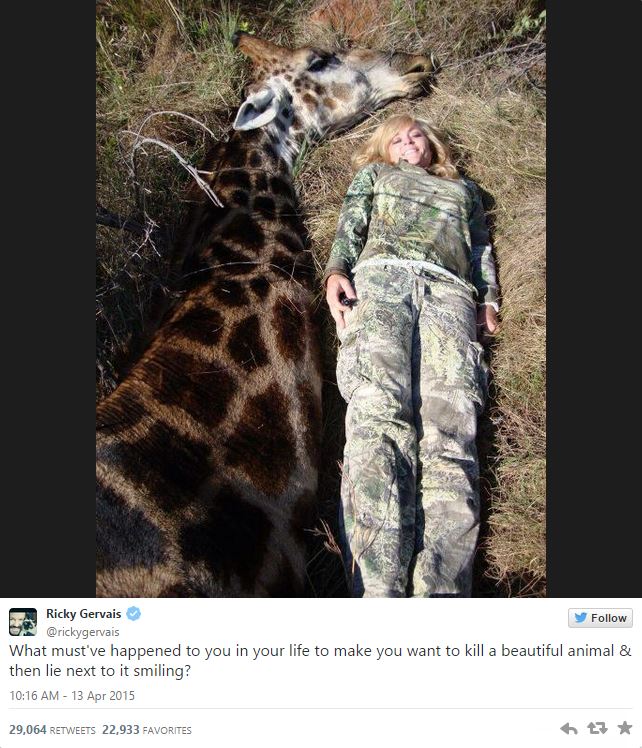 Here's the type of response it's getting:

Not sure that makes MistaHippyDalek any better than Rebecca but hey, he's probably just saying things in the heat of the moment he doesn't really mean.
Here's how Rebecca explains her lifestyle in a talk with Hunting Life:
When I was in Africa five years ago I was of the mindset that I would never shoot a giraffe. I was approached toward the end of my hunt with a unique circumstance. They showed me this beautiful old bull giraffe that was wandering all alone. He had been kicked out of the herd by a younger and stronger bull. He was past his breeding years and very close to death. They asked me if I would preserve this giraffe by providing all the locals with food and other means of survival. He was inevitably going to die soon and he could either be wasted or utilized by the local people. I chose to honor his life by providing others with his uses and I do not regret it for one second. Once he was down there were people waiting to take his meat. They also took his tail to make jewelry, his bones to make other things, and did not waste a single part of him. I am grateful to be a part of something so good.
That actually does make a fair bit of sense (maybe not to vegetarians), but I think what people are mainly pissed off about is that Rebecca (and Kendall before her) feel the need to post selfies with these animals once they've killed them. Kinda makes it seem like you enjoy murdering animals a tad too much. If even offends Ricky Gervais FFS.
Why not stick to taking selfies with live animals instead?