JD Sports are hosting a competition to find their new Face of 2014, with the winner set to star in JD billboard posters and in promotional material around the country.
Their comp hasn't exactly gone to plan though, as online pranksters have seen to it that this dude — Rake Ali (real name Raza Ali) — has picked up over 7000 votes and is well on his way to winning and becoming the face of JD sports.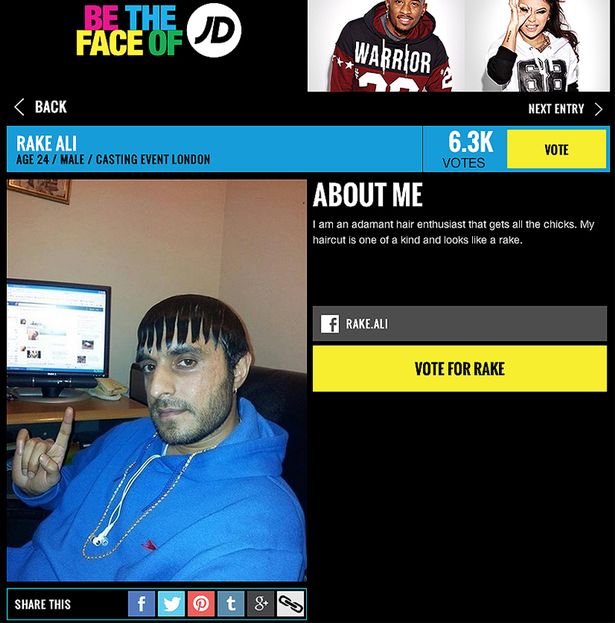 Ali's profile reads: "I am an adamant hair enthusiast that gets all the chicks. My haircut is one of a kind and looks like a rake."
"It has always been a dream for me to share my unique hair styles with the world, I believe this competition is the best way for me to do so. I see myself as a young John Frieda or Paul Mitchell."
The competition ends today and barring a miracle surge of votes for someone else, Ali has it in the bag. He'll be invited to a casting event automatically where he'll be judged on a range of criteria including his personality and creativity, how 'street smart' his style is, and how unique his look is.
Votes for Raza 'The Rake' Ali initially surged when a dude named Ryan Coutts spotted a picture of him on forum 'Splitter Scuffers' and asked people to start voting.
Vote for The Rake here.
☛ More Haircuts: Hideous Haircuts And Terrible Trims #2