It's pretty amazing that in 2019, people still find the idea of interracial dating to be in any way a negative thing, but alas here we are.
Featured Image VIA
In this particular case, Twitter user Najma Sharif who goes by the handle '@overdramatique' wondered out loud how it's possible for any black person to fall in love with a white person, seeing as white people are gross I guess.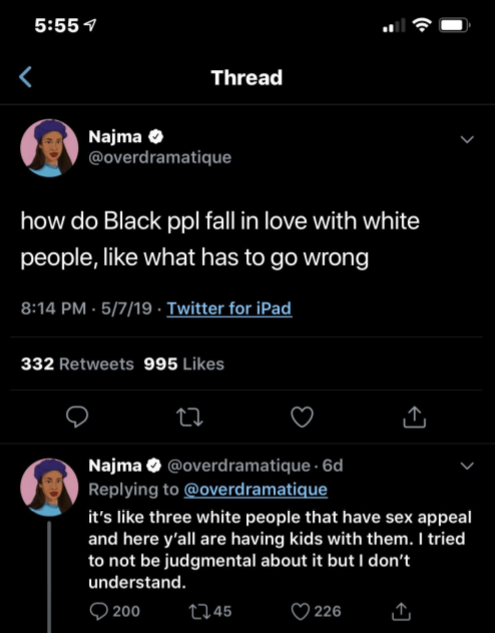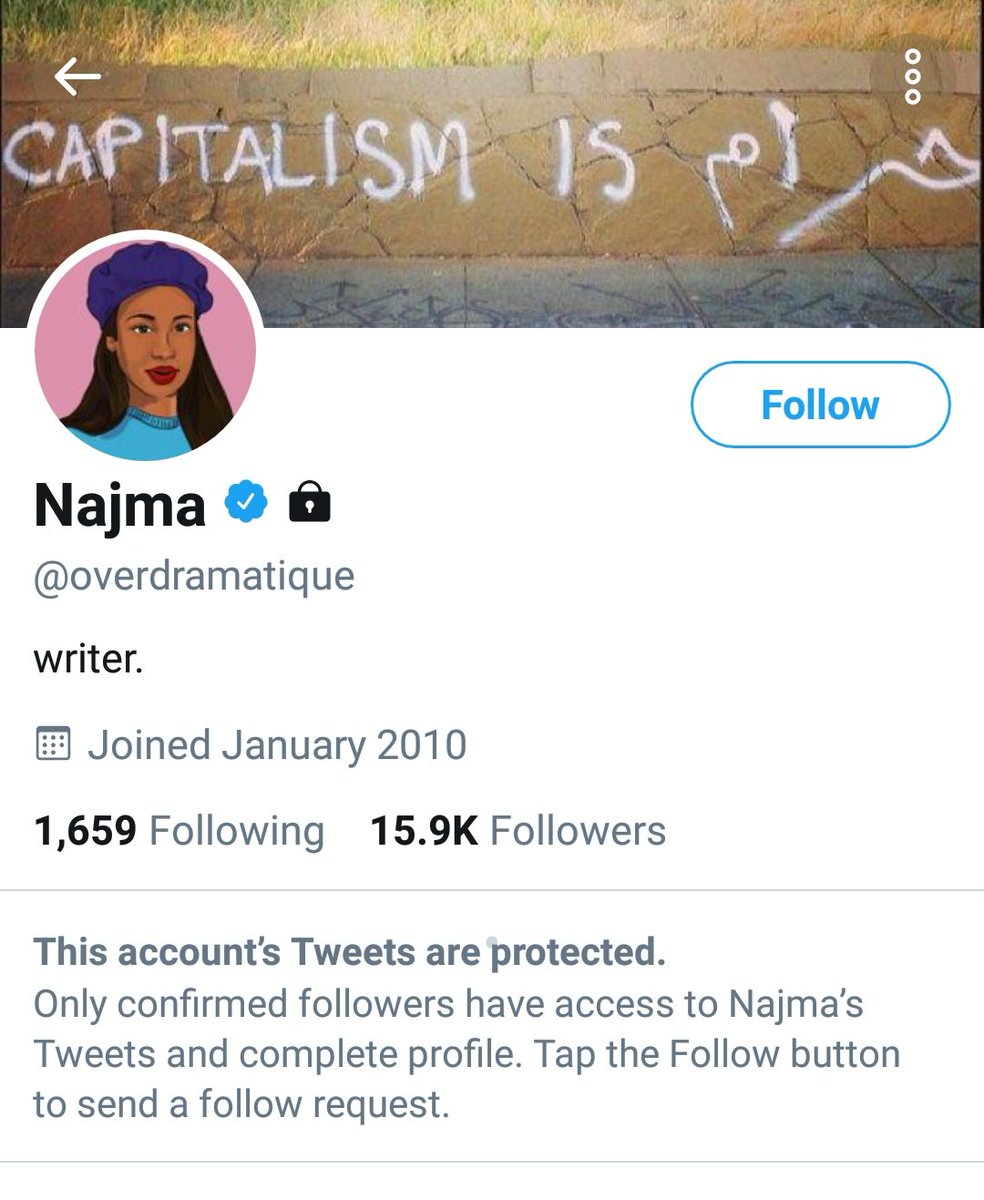 Thousands of people Liked the Tweet before she made her account private, due to the thousands of others who were quick to let Najma know what a complete and utter pillock she is:
This is blatant racism, the ancestors of both white, black and Hispanic people who couldn't be with each other because of racism would roll in their graves seeing a young person from a free generation promoting the idea people from different races shouldn't love each other. Sad.

— Robby Starbuck (@robbystarbuck) May 14, 2019
Brilliant! In fact maybe the Supreme Courts should reverse the 1967 Love vs. Virginia decision and make it illegal for blacks and whites to marry again.

Truly, only a Democrat could tweet something THIS stupid. Liberals have convinced some black people to oppress themselves. https://t.co/LSjGNBA4tL

— Candace Owens (@RealCandaceO) May 14, 2019
Wow ! This is how far we've gone back ! I thought we were way past this ! My dad was born in 1918 & when he died in 1991 he didn't even think this way !

— Brian O'Donnell (@brianstick13) May 14, 2019
Imagine the OUTRAGE if a white person tweeted this. Hypocrites all over twitter🤦🏾‍♂️

— Bakkz🇬🇲🇬🇲 (@Bakkz007) May 11, 2019
Oh look, a verified twitter racist

— Jamie Brexit (@bombszelberger) May 13, 2019
this is racist. almost no different from a white person saying "black folks are repulsive. do not breed with them." I would expect this mindset from white supremacists. as a black woman who doesn't base physical attraction on the color of a person's skin, I'm uncomfortable.

— Aurora Ross (@RAWRAnation) May 14, 2019
The best responses though came from those who themselves are in interracial marriages and relationships:
Whatever went "wrong" here I am truly grateful for 🙂 She melts my heart every day. pic.twitter.com/F7YfpArYiz

— yinzed412 (@kougarbait) May 14, 2019
I dont know what went "wrong" with her, but I thank God every day it did, making me the luckiest man alive. And please dont do that whole 1967 love vs Virginia thing… that would really damper my plans for this year pic.twitter.com/AZvhE4PJJt

— john (@kryptonmetal) May 14, 2019
I cannot imagine my life without my wife. pic.twitter.com/CtbFbUWNmm

— jeremy pope (@jeremypope8) May 14, 2019
Love my beautiful family!!! Can't think of life any other way!! pic.twitter.com/uN3x8yGAv5

— Natalie Collington (@NAC061986) May 15, 2019
Grateful this beautiful woman of God doesn't think that way. 😉❤️ pic.twitter.com/MsqRt0o3r0

— claydefriend (@cdefriend) May 14, 2019
I love and adore my husband! He is the best part of me! Love wins!!! pic.twitter.com/5McoLoPPKY

— Jerrie Okparah (@JerriePayne) May 15, 2019
We didn't get the memo!😂 pic.twitter.com/Vq1Ab1mWKF

— Leanbean (@Leanbean67) May 15, 2019
I fell in love with a black man and he loves me equally. This is the result. A beautiful human. pic.twitter.com/PdJCV2GS3p

— Lulu 🇺🇸 (@luannimal24) May 14, 2019
My daughter, son in law and grandson. A beautiful family. pic.twitter.com/zNR2LEYGTg

— Daria Sockey (@Daria_Sockey) May 15, 2019
Wonderful stuff.
Now whether Najma really feels this way or whether she was just trolling (in which case – A+) is up for discussion, but even if it's the latter you really shouldn't be Tweeting things like that out into the universe. Just seems a tad counter-productive considering how far the civilised world has come regarding race relations. It's a beautiful thing. 
For an excellent photo of a Nazi getting punched in the face while giving the Nazi salute, click HERE. Always satisfying.