Qantas Airlines has announced plans for a seven-hour scenic flight that takes off from Sydney Airport and flies over Queensland and the Gold Coast, New South Wales and the country's remote outback heartlands… before returning passengers back to Sydney where the plane took off from, essentially going 'nowhere'.
Featured Image VIA
The craziest part is – according to Travel & Leisure – Qantas's 7-hour 'flight to nowhere' managed to sell out in 10 minutes.
A spokesperson told FOX News:
It's probably the fastest selling flight in Qantas history.

People clearly miss travel and the experience of flying. If the demand is there, we'll definitely look at doing more of these scenic flights while we all wait for borders to open.
Can you imagine waking up in your bed in the morning and actually leaving your house to catch this flight? It's just beyond sad. Getting to the airport, going through security, checking in, waiting around for the gate to open… just to sit in your small seat for 7 hours as the plane flies around? Most normal people want to spend as few hours on a plane as possible. The fact there's so many people out there who are willing to pay to get on a flight to nowhere for 7 hours is just mind-boggling. It actually sounds like a nightmare.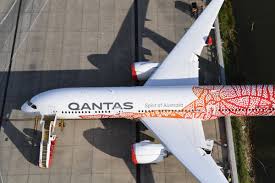 I get that the world has gone a little bit crazy given that we've been through quarantine and all the other crazy shit that's happened in 2020, but it's still shocking that this even a thing. Qantas Airlines offering a flight to literally nowhere that lasts for 7 hours and it sold out in 10 minutes. Seven hours to fly around in a big metal container in the sky and end up right back where you started. I mean I know people miss travelling, but come on!
In total 134 seats were up for purchase, ranging from $787 to $3,787 AUD (£443 to £2,135) depending on class. Which means someone actually paid £2,135 to sit in first class and go 'sightseeing' around Australia for 7 hours. And it sold out in 10 minutes! Mind-blowing stuff. If you know who any of these passengers are, name and shame immediately before cutting them out of your life for good.
For the girls who were so hungover they sparked coronavirus panic on a plane to Heathrow, click HERE.