We've been talking a lot about Otto Warmbier – the American student who was held in a North Korean prison before being returned to the US in a coma. He sadly died last week and the majority of people have been sympathetic to his plight.
Featured Image VIA
Not everyone though, with Katherine Dettwyler – a professor at the University of Delaware – writing the following on Facebook, claiming he deserved everything he got: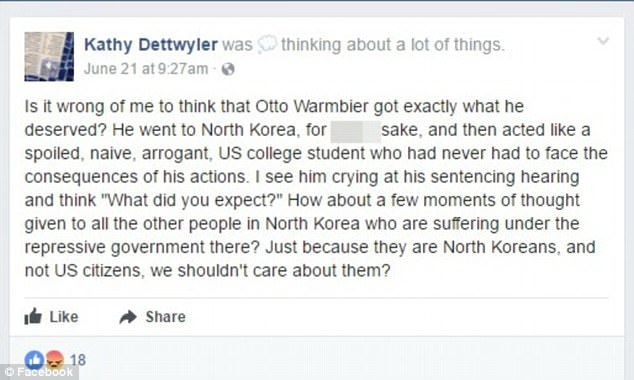 She followed this up saying:
It's typical of the mindset of a lot of young, rich, clueless males who come into my classes. These are the same kids who cry about their grades because they didn't think they'd really have to read and study the material to get a good grade.

His parents ultimately are to blame for his growing up thinking he could get away with whatever he wanted. Maybe in the US, where young, white, rich, clueless white males routinely get away with raping women.

Not so much in North Korea. And of course, it's Ottos' parents who will pay the price for the rest of their lives.
Whoa. Talk about projecting in a Facebook rant, especially when she probably didn't have a clue about what she was talking about at all.
As the great saying goes, "if you're gonna post a rant on Facebook, then you better be willing to face the consequences," and this occasion was no different. After a public backlash, the University has announced that Dettwyler will no longer be teaching there: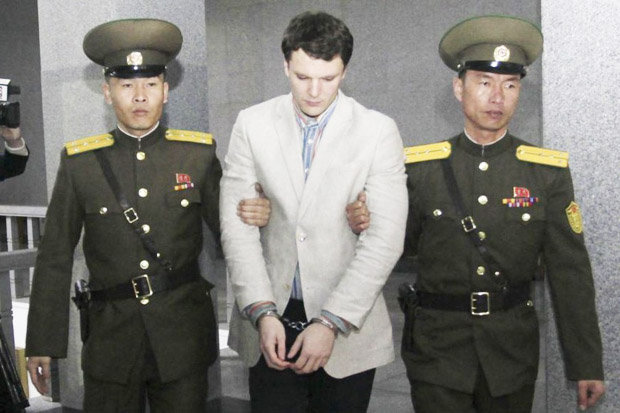 Katherine Dettwyler, who last taught in the spring as an adjunct faculty member, will not be rehired to teach at the University in the future.

The University issued a statement about comments that Dettwyler recently posted online, at a time when she was not employed by the University, concerning student behaviour and the Otto Warmer incident.

Those comments in no way reflect the values or position of the University of Delaware.
Ouch. I suppose you can't really feel that sorry for her though right? Surely her actions are just the kind of thing that white, rich, clueless adults get screwed over for all the time? It's not like this is the first time someone has posted a controversial opinion on social media and lost their job because of it. Get with the times lady.
For more statuses causing people to lose their jobs, check out this teacher who was surprised that she lost her job when she posted a picture of Hitler on her wall. Be serious.