When Prince Harry described losing his virginity to an older woman in a field behind a pub in Wiltshire, everyone assumed it was Liz Hurley or some other MILF type who had a few years on him at least.
Turns out it was a young lady named Sasha Walpole, who was only a couple years older than 17-year-old Harry at the time. In fact, Sasha was celebrating her 19th birthday at the pub on the day it all went down. Congrats on the birthday sex? Sasha, now 40, told The Sun:
'It was literally wham-bam between two friends.

The sex was passionate and sparky because we shouldn't have been doing it. One thing just quickly led to another. We ended up on the floor.'
She recalled the two had downed 10 shots of tequila, Baileys and sambuca before heading to a meadow behind the car park of the historic Vine Tree Inn in Norton:
'We went outside and both climbed a three-bar fence to the field. We were quite drunk at this point.

I gave Harry a cigarette. I lit mine and then his. He started to kiss me. He was wearing boxers. There was no chatting, no words.

It was exciting that it was happening. It was exciting that it was happening like the way it was. We were away for 15 minutes but the sex was about five ­minutes.'
Well, well! Congrats to Sasha again and of course to Harry for losing his V plates. Make no mistake – five minutes is not bad going at all, especially on your first go! Sasha also confirmed she gave Harry a 'slap' on his 'peachy bum' as per the details of his memoir, so at least he wasn't fibbing about that part eh?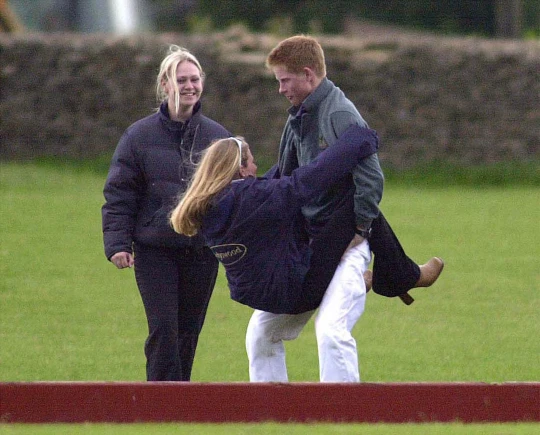 Sasha also paid Harry a big compliment by saying she had no idea it was his first time as there were 'no virgin vibes from him'. Which is always a nice thing to hear I suppose. Although nowhere near the thrill of being a real life Prince's first shag!
Fair play to Sasha for ending all the speculation as well – means Liz Hurley won't have to answer questions about it anymore.