A Warwickshire man who told his pals he had won £328,000 on the Lottery as a 'prank' ended up blowing thousands of pounds on a 13-hour bender in order to keep up the façade.
Featured Image VIA
Dale Barnwell, 33, texted mates, telling them to meet him, suited and booted, for a celebration. Five friends turned up along with Dale's 27-year-old cousin Brad Birkett, who was in on the joke.
They started drinking at the Fox Inn in Nuneaton and spent £200 on Jägerbombs.
The group moved on to the Attleborough Arms in town before heading to Grosvenor Casino, Coventry, where Dale blew £1,000. He ended up spending £5,000 in total – and decided to break the news in The Sun that it was all a big prank. Wow, um, what a joker?
Plumber Dale says:
I sent them a video of me in a suit celebrating.

I did it to try to get one mate to meet us in a suit to video him looking stupid.

It escalated quickly. I had £2,100 saved up and I woke up with £80 and no phone. It's a lot of money but it was well worth it.
Worth it? If you say so bud. I mean this guy really thinks he 'got' his friends by… texting them that he won the lottery and then blowing a ton of money on them having a great night out. He basically spent £5,000 of his hard-earned cash to prank his friends into hanging out with him. Is Dale the next Ashton Kutcher or what?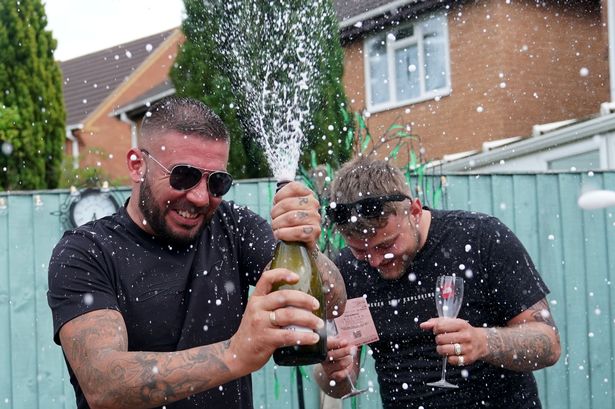 I really can't think of a worse prank TBH. It sounds more like he ended up pranking himself while his mates just got free booze all night. Or maybe – just hear me out here – Dale really did win the lottery and then realised what a colossal mistake it was telling all his friends who then took liberties with him splashing the cash all night. So he's now come out and said it's a hoax so he might have a chance of saving some of his winnings.
Yeah, I doubt it too. I think Dale just genuinely doesn't know how pranks work. Seems he's elated that he got this story in The Sun though so fair play I suppose. Even though his friends will never believe anything he says ever again.
To watch an Iranian kid instantly regret trying to prank his dad by cutting his beard while he was asleep, click HERE. What was he thinking?