As far as dream Valentine's Day weekends go, I reckon that a lot of girls out there would say that a spa weekend is up there as a top tier present – but I'm not sure how many guys out there would feel the same way.
Images VIA 
This is perfectly exemplified by the story of 44 year old Sue Pakey from Birmingham, who was over the moon when her 37 year old boyfriend David Burrows promised her a spa weekend for February 14th this year. Unfortunately, what David actually had in mind for her was a tour of nine Spars in the area, making her pose for a selfie outside each one. What a joker!
Here's what Sue had to say about the experience:
When we stopped he said, 'Here we are then.

He popped in to get some things but I just thought he was buying some snacks.

I thought, 'What is going on — we are not going on a Spar tour are we?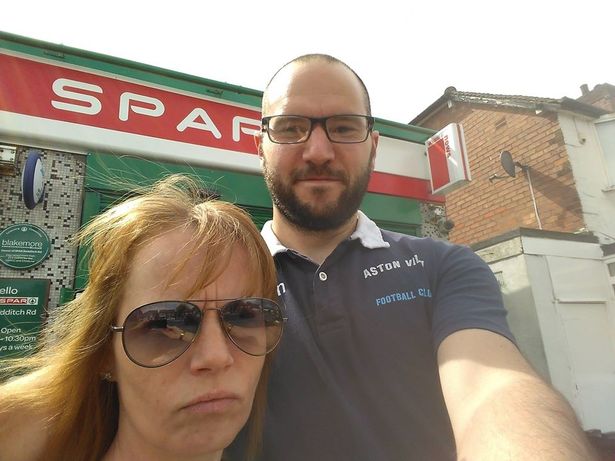 Sorry love – that's exactly what was happening. Fair play to her for a being somewhat of a good sport about it and not going completely mental though. I imagine David must have known that she would see the funny side otherwise he wouldn't have dared try it, right? And now that the story has gone massively viral, maybe she'll get a kick out of being famous for five minutes as well?
Even if she hasn't, David has promised to take her on an actual spa weekend sometime soon and revealed that he 'wasn't a monster' and bought her something in each of the 9 Spars that they visited on the weekender. What a catch that guy is right? Sure Sue loved her packed of sliced cheese or copy of Us magazine or toilet paper or whatever other crap David managed to secure for her at Spar. The state of that comment.
For more of the same, check out this story about a South African man who wanked himself to death on Valentine's Day. Tragic.