A group of police officers from the South Wales Police department had to gatecrash a Facebook group chat in order to get home an incredibly drunk student.
Images VIA
Police found Cameron, a Cardiff University student, in such a drunken state that they had to use his phone in order to contact his friends on Facebook Messanger in order to find out which number house he lived at.
Initially the friends were dubious, which is why the officer who had been sending the messages decided to send a selfie.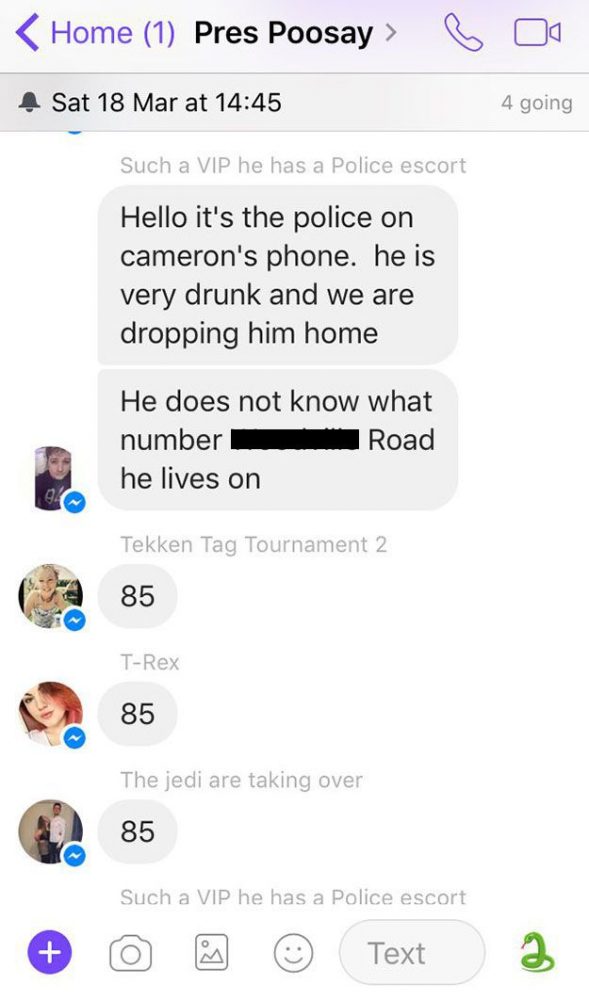 Pure banter. One of the friends who had been involved in the messaging, Lawrence, added:
It made us all laugh out loud and the fact it has gone viral online is unbelievable.

(Ron) actually can't remember anything, he's laughing about it now but I have tried to get something out of him but he actually doesn't know.

I think it's brilliant, it gives you another side to the police force and you don't often see them as being a laugh.

Ron is going to get a lot of banter over this, no doubt. It's one for the grandkids.
He's right – it does show another side to the police force that you don't normally see.
Maybe cops over in America could stop going around shooting innocent people and learn to be more like these jovial British Bobbies instead.